Dungannon judge criticises PSNI over domestic violence case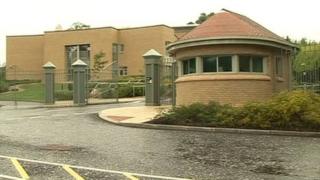 A judge has criticised the police for releasing a domestic violence suspect on bail, despite him being accused of a violent attack on his partner's home.
Alan McClintock, 24, of Clover Brae, Enniskillen, County Fermanagh, faces nine charges over the incident at his girlfriend's house on 5 and 6 July.
He is accused of making a death threat and smashing windows with a metal bat.
The judge said the case was "another example of profound failure" in the PSNI's handling of domestic violence.
The court heard the accused was first released on bail earlier this month, despite the police having been called out twice in one night following attacks on the woman's home.
'Significant damage'
Mr McClintock was brought before Dungannon Magistrates Court on Friday, having breached the bail terms on which police released him following his initial arrest.
The court heard police were first called to his partner's house in Rossory Court Enniskillen, shortly after 21:00 BST on 5 July, following a report that a man was attacking a house.
On arrival, officers noted significant damage to windows as well as the front door panels, which appeared to have been caused by a metal bar.
The owner of the property was not present during the attack, but told police she had been in a six-month relationship with Mr McClintock.
She made a number of allegations against him, one of which was that he had threatened to kill her in the recent past.
Police left the scene, but at about 01:00 BST, they were alerted that Mr McClintock had returned to the property and further damage had been caused.
He was arrested and questioned, and was then bailed to reside with his parents at their Clover Brae address.
In addition, he was ordered to have no contact with the injured party or witnesses and to refrain from entering the Rossory area of Enniskillen.
'Fled upstairs'
On 17 July, police called to his parents' home to carry out a bail check, but were informed by Mr McClintock's father that he was not present and his whereabouts were unknown.
Officers went to the victim's house and observed Mr McClintock standing in the living room, bare-chested. The court heard that on seeing police he fled upstairs
The injured party eventually answered the door and confirmed the defendant was upstairs. Her eight-year-old child was present at this time.
In court, an officer said police were opposed to bail given the short time between the accused being released and a breach occurring.
'Highly disturbing'
The officer added that Mr McClintock is alleged to have assaulted both of his parents on a number of occasions and his father was no longer prepared to have him reside at the house, due to fear of further attacks.
The judge told the officer: "It is highly disturbing, once again, a custody officer decides to release a suspected domestic violence perpetrator on bail, despite allegations of smashing windows and a door with an implement.
"He then returns to the house and fresh damage is caused.
"Despite all the public statements of police understanding the plight of domestic violence victims and its impact on children, this is another example of profound failure."
The judge said the accused had displayed "a classic trait of a domestic violence perpetrator - return, reconciliation and all charges dropped".
"All this an eight-year old child in the house. There is no question of bail."
Remanding Mr McClintock in custody, the judge added: "The decision to release on bail after the first incident was not for police - it was for a judge to consider."
The case is due before Enniskillen Magistrates Court by video-link next month.