GM profits hit by recall problems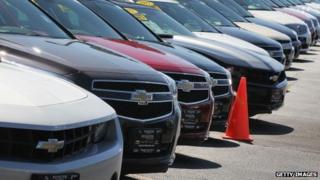 Earnings at the carmaker General Motors (GM) have slumped because of costs related to its vehicle recalls.
Second-quarter net profits fell 85% from a year ago, to $190m (£112m), the company said.
The carmaker has recalled nearly 29 million vehicles this year, mostly due to faulty ignition switches.
The cost of recall-related repairs came to $1.2bn, with another $400m put aside for compensation payments. The shares fell 4% in afternoon trade.
However, the company said that this was an uncertain estimate.
"There is no cap on this program, but this charge is the company's best estimate of the amounts that may be paid to claimants," GM said in a statement.
"Due to the unique nature of the program, this estimate contains significant uncertainty and it is possible the total cost could increase by approximately $200m," the statement continued.
"At the end of the day, the ultimate cost of this will be determined by Ken Feinberg [the compensation expert administering the fund],'' GM chief financial officer Chuck Stevens said.
The defective ignition switch has been linked to 13 deaths so far.
GM also said it was changing the way it would estimate future recall expenses, a move which involves putting aside a certain amount of money from the sale price of each vehicle.
As a result the company has put aside another $900m as a best estimate of "future possible recalls for up to the next 10 years on 30 million GM vehicles on the road today".
Mr Stevens also said the situation in Ukraine had led to GM cutting production there by 20-25% at its plant in St Petersburg, and that he expects more of the same in the second half.
Those costs aside, GM expects to be profitable in Europe by about 2015.