Argentine mother tracks down son's killer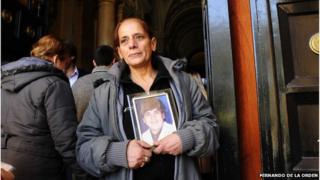 Nelida Serpico was left devastated when her youngest son, Octavio Gomez, was shot dead in Buenos Aires in December 2005.
The sixteen-year-old had been involved in a fist fight, and the young man he had fought with had threatened to get revenge.
It was a threat no-one took seriously until Octavio was shot in the back as he got off a bus. He died shortly afterwards.
Witnesses identified the man who shot him as Facundo Caimo, the same man who Octavio had been fighting with.
According to prosecutor Monica Cunarro, the police knew which neighbourhood Caimo lived in and had a warrant for his arrest.
'Police inaction'
"However, they did nothing. So Nelida decided to act," she recalls the start of Ms Serpico's unusual and dangerous quest.
For seven years, Ms Serpico, now 57, searched the streets of Caimo's neighbourhood in the hope of tracking down her son's killer and delivering him to the police.
"In the afternoon, after arriving home from my job, I used to change into different clothes to go to the neighbourhood, which is far from my house," she explains.
The saleswoman bought simpler clothes, dyed her hair black and even broke a tooth to be able to pass unnoticed in the dangerous area, which has a high crime rate.
"I tried to look like them, the locals. And I also did that because I did not want to be recognised," she explains.
She says she was afraid of being robbed so she never carried a bag and instead wandered the streets with an artist's impression of Caimo tucked away in her blouse, the file number of her son's case scribbled on one hand and the telephone number of the police on the other.
She told no-one about her mission to find her son's killer, searching for him in the afternoons and returning home in time to put dinner on the table for her husband.
The next day she would repeat the routine, walking through often dangerous and abandoned streets for hours at a time.
She kept her mission secret from her husband and sons. "If I had told anyone, they would have tried to stop me and I didn't want to give up," she says.
Chance encounter
Despite her constant visits to the area, she never came across Caimo.
"He was like a mouse, escaping between the cracks. I went as close as possible to his house, many times, but I never saw him," Ms Serpico recalls.
It was not until 5 April 2013 - more than seven years after she began her quest - that she finally spotted Caimo, chatting to people.
She says she wanted to be sure she had the right man before calling the police. "I asked a woman if she knew his name and she told me," she says.
"It was him alright. Even today I still can't bring myself to say his name," she recalls.
But when she rang the local police station they rebuffed her and told her to call back later.
'Justice served'
Ms Serpico says this was the moment when it paid off to have her son's case number scribbled on her hand.
She called the military police instead, quoting the case number and telling them she had found her son's killer.
"They arrived quickly. He tried to escape but was captured," she says.
Caimo did not notice her at the scene of his arrest so the first encounter between the mother and her son's killer was in court.
"I held up a photo of my son and said: 'This is the image you will carry with you forever, this responsibility you will carry for your entire life,'" she recalls.
Her voice shaking, she says she was surprised at Caimo's "coldness". He never once asked for forgiveness, she says.
Caimo pleaded not guilty but was convicted and on earlier this month sentenced to 15 years in jail.
"Justice was done," says Ms Serpico. "But nothing will bring back my son, such a good boy, such a good person".
Prosecutor Monica Cunarro says Ms Serpico is a "heroine", an "ordinary person who never gave up".
Ms Serpico says her friends and family often ask her where she got the courage from: "I always believed in God and in justice and I continue to believe."