Belgrade drone brawl enrages Serbia and Albania media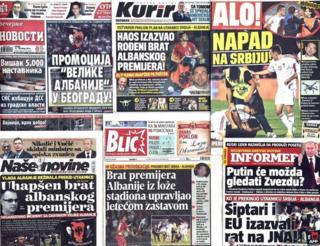 The antagonism that the drone sparked off on the Partizan pitch in Belgrade quickly filtered through to Serb and Albanian media.
Belgrade daily Politika blamed the Albanian Prime Minister's brother, Olsi Rama, who was watching the match from the VIP box. "It did not take long to find out who was the main culprit" behind the drone stunt, it says. "His intention was obvious: to create chaos," it says. Police found the remote control used to direct the drone, it says, which had reportedly been launched from the roof of a nearby church.
The authorities did everything they could in the days leading up to the match to guarantee security, Politika reports. "They could never imagine that danger could come from those quarters."
Other Serbian papers see the incident as an Albanian ploy.
Kurir's headline is: "Albanians are mocking us: Serbs, thank you for three easy points!"
Blic's headline condemns the response of fans in the Albanian capital: "Happy about the incident: thousands of supporters greet Albanian footballers in Tirana."
But Albanian media say the atmosphere at the game was tense from the start.
Pro-government Top Channel TV says the scene was set when the Albanian national anthem was booed and insults were hurled by Serbian fans.
Andi Bushati writes in Tema that he was scared to be among the very few Albanians in the stadium where "an enormous chorus kept chanting, 'Death to Albanians'". He accuses Serbian players of being "keener to get the medal of nationalism, not the badge of a professional".
In an article on Dita entitled "Shame on Serbia", Mira Kazhani says the idea of a greater Albania, as portrayed on the flag that hovered above the pitch, lives on in Serbian DNA more than inside Albanian heads.
"Hatreds," she argues, "have made the peoples of the Balkans similar, but I think that we differ in the way we love."
Under the headline "Battle in Belgrade, Albanian lions' injuries", Panorama blames police in the stadium for not intervening to protect Albanian footballers from Serbian fans. Albanian captain's Lorik Cana is quoted as saying the situation would have been kept under control if the fans had not invaded the pitch.
Koha Jone bemoans Serbian "racism". The country that enjoys the status of European Union candidate "was unable to shed the horrors of the past", it says.