Damon Albarn writes Alice in Wonderland musical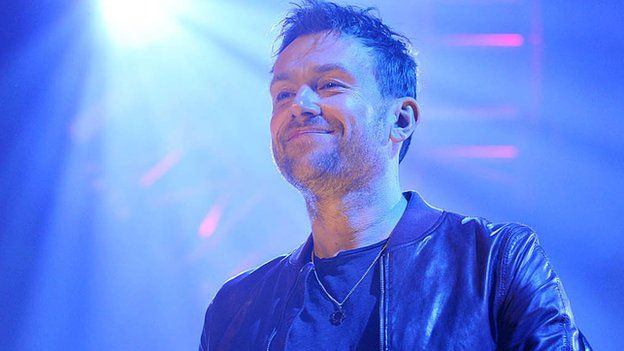 Singer Damon Albarn has co-written a stage musical based on Lewis Carroll's classic story Alice in Wonderland.
Titled Wonder.land, the show is part of the National Theatre's first season under new artistic director Rufus Norris and will premiere at July's Manchester International Festival.
The story follows 12-year-old Aly, who creates an online alter-ego as Alice and loses herself in a virtual world.
Albarn has written the music, and the script and lyrics are by Moira Buffini.
Norris, who will direct the show, said it was "stuffed full of infectious and exuberant songs".
The National's new programme, unveiled on Wednesday, includes new plays by Caryl Churchill, Patrick Marber, Duncan Macmillan and Wallace Shawn as well as classics like As You Like It and Jane Eyre.
Norris will also direct Everyman, a 15th Century morality tale adapted by poet laureate Dame Carol Ann Duffy, starring Chiwetel Ejiofor in his first appearance at the National since 2000.
Norris said Ejiofor's return came in "another year where the Oscar nominations are stuffed with actors who have learned their craft on our subsidised stages".
Wonder.land will open the Manchester International Festival on 2 July before moving to the National in November and then opening in Paris in 2016.
"I'm fascinated by the idea of going down a rabbit hole, the otherworldliness and what that might mean," Albarn said.
"Alice aside, The Queen of Hearts, The Duchess, White Rabbit, Caterpillar were the most threatening characters of my childhood. I was genuinely very frightened of them as a kid."
The musician is best known for being part of the bands Blur and Gorillaz and has also previously created the stage shows Dr Dee and Monkey: Journey to the West for the Manchester International Festival.
Buffini has previously written the plays Handbagged and Welcome To Thebes and the screenplays for Tamara Drewe, Jane Eyre and Byzantium.
"I have never written a musical before so I am in at the deep end - but with two wonderful collaborators in Damon and Rufus," she said.
"Alice offers a great challenge. Carroll's stories and [John] Tenniel's drawings are hardwired into our subconscious; characters curious and bold, treading a line between dream and reality.
"Finding a way to reinvent these icons for the digital age has been a fascinating journey."
The production coincides with the 150th anniversary of the publication of Carroll's Alice's Adventures in Wonderland.
Norris officially takes over from Sir Nicholas Hytner as director of the National Theatre at the end of March. The role is widely regarded as the biggest job in British theatre.
Norris and incoming NT chief executive Tessa Ross said they wanted to make "the very best theatre" and share it with as many people as possible.
"The work we make over the coming years will strive to be as open, as diverse, as collaborative and as national as possible. We want to inspire artists and audiences to think in new ways, to constantly re-imagine the act of making theatre. This first season is just a beginning, but it contains the seeds of what is to come."
Upcoming productions include:
Caryl Churchill's Light Shining in Buckinghamshire at the Lyttelton Theatre in April, set in the aftermath of the English Civil War.
Simon Godwin will direct George Farquhar's Restoration comedy The Beaux' Stratagem, opening in the Olivier in May.
Patrick Marber's new play set in the world of semi-professional football, The Red Lion, opening at the Dorfman Theatre in June.
Timberlake Wertenbaker's Our Country's Good at the Olivier Theatre from August.
A DH Lawrence trilogy, Husbands and Sons, starring Anne-Marie Duff and directed by War Horse's Marianne Elliott, at the Dorfman Theatre from October and Manchester Royal Exchange from February 2016.
Polly Findlay will direct Shakespeare's comedy As You Like It, at the Olivier Theatre from November, the play's first main stage production at the NT since 1980.
Bristol Old Vic's staging of Charlotte Bronte's Jane Eyre will run at the Lyttelton Theatre from September
It was also announced that the NT's productions of Frankenstein, King Lear and Othello will be made available free to show in every secondary school in the UK from September.
Sir Nicholas Hytner's last play as the National's artistic director is Tom Stoppard's The Hard Problem, which will premiere at the new Dorfman Theatre on 28 January.
Norris said he intended to continue working with the "great writers and performers" who have been associated with the National.
"We do not intend to lose one single audience member that has been so loyally committed to this theatre over the last decade. It's about expanding that where we can. There's no questions of kicking Alan Bennett out the door," he said.
Having initially trained at Rada as an actor, Norris has directed theatre in the West End and on Broadway, as well as having experience with opera and film.
His screen work includes Broken, which won the British Independent Film Award for best film in 2012, and the film version of his NT musical London Road, which will be released later this year.
Related Internet Links
The BBC is not responsible for the content of external sites.