Venezuelan teenager killed in San Cristobal protest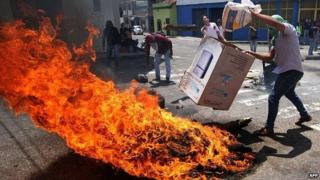 A Venezuelan teenager, Kluiver Roa Nunez, has been killed in the western city of San Cristobal in a protest over the worsening economic crisis.
A policeman has been arrested in connection with the death of the 14-year-old student.
The government of President Nicolas Maduro has condemned the incident and promised a full investigation.
Last year, 43 people from both sides of the political divide were killed in several months of protests.
Local reports say the student was hit in the head by a rubber bullet during a clash between hooded protesters and the police.
'Give up violence'
Home Affairs Minister Carmen Melendez confirmed the arrest of a policeman, who has been named as 23-year-old Javier Mora Ortiz.
Ms Melendez made an appeal for "peace and tranquillity" in Tachira state near the border with Colombia.
President Maduro went on national television to regret the death of the student and call for an end to violence.
"There is no reason for violent protests. I make an appeal to our country, and especially the young, to give up violence. Hatred will not lead to anything," he said.
"Give up all violence, lads. And rest assured that if a government official breaks the law I will be the first one to go after him."
'Right-wing coup'
Dissatisfaction with the shortage of many staples, as well as rampant crime and high inflation, led thousands of people to take to the streets in Tachira and the neighbouring state of Merida a year ago.
The protests quickly spread to the rest of Venezuela, but died down after several months.
However the economic crisis has deepened in recent months. Venezuela, a major oil exporter, has suffered with dropping prices in international markets.
New anti-government protests began last month, albeit in a smaller scale.
The opposition says the left-wing policies of the past 16 years - initiated by late President Hugo Chavez - have failed, pushing the country into economic disaster.
Mr Maduro says the opposition and right-wing sectors outside the country have been boycotting the country's economy and preparing a coup against his socialist government.
Last week, the mayor of Caracas, veteran politician Antonio Ledezma, was arrested and charged with plotting to overthrow the government.
The move was condemned by the opposition.