Election 2015: Follow us on Instagram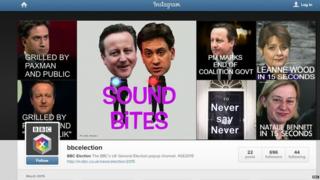 Follow our BBC Election Instagram Channel for quick updates on the 2015 UK General Election in video and stills.
The BBC election Instagram channel brings you regular 15-second videos on key election themes.
We profile party leaders, capture key moments in the campaign and take a fresh look at the stories everyone's talking about on social media.
The channel also visualises UK election #BBCGoFigure infographics to highlight the facts and figures most pertinent to the campaign.
Let us know what YOU think about the specific videos or stills in the comments section of each post.