India Hindu group says river rafting leads to 'objectionable activities'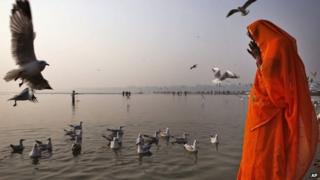 A hardline Hindu nationalist group has demanded a ban on river rafting at a popular tourist destination in northern India, saying it leads to 'objectionable activities', reports say.
The Vishwa Hindu Parishad (World Hindu Council or VHP) has asked the Uttarakhand state government to shut down rafting camps around the Ganges river.
According to the VHP, "fun seekers" visit rafting camps to "mingle, drink and indulge in objectionable activities… where saints gather to meditate", The Times of India reports.
The group has alleged that rafting "has led to many illegal activities" in the holy towns of Rishikesh and Haridwar.
VHP leaders made these statements at their national meeting in Haridwar on Tuesday.
Haridwar and Rishikesh are popular among both religious tourists and adventure sports lovers.
Locally called the Ganga, the Ganges is revered by Hindus. It is India's longest river and supports a third of the country's 1.2 billion people living on its floodplains.
BBC Monitoring reports and analyses news from TV, radio, web and print media around the world. You can follow BBC Monitoring on Twitter and Facebook