Four Sri Lankan soldiers convicted of raping Tamil woman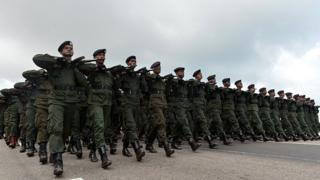 In an unusual move, a court in Sri Lanka has sentenced four government soldiers to 25 years in prison for the gang rape of a Tamil woman in northern Sri Lanka.
The incident occurred at a resettlement camp in Vishwamadu, Kilinochchi.
It took place in June 2010, a year after government forces defeated Tamil Tiger rebels in the region.
The men were sentenced by the High Court in Jaffna, the capital of Northern Province.
"A lengthy jail term was given because these soldiers brought the military into disrepute," judge Manickavasagar Illancheliyan was quoted as saying.
'Extremely rare'
Each of the soldiers was ordered to pay 500,000 Sri Lankan rupees (£2,300; $3,600) to the victim, a 27-year-old mother of two, as compensation.
They were also ordered to pay 100,000 rupees to a neighbour who was sexually abused by the men.
Three of the four were present in court, with the other was tried in absentia.
Prosecutions of security personnel for sex crimes are extremely rare in Sri Lanka, says the BBC's Azzam Ameen in Colombo.
In a report last month, the UN said that perpetrators "continue to enjoy impunity".
It said that 19 cases were before the courts in Northern Province and 20 in Eastern Province as of May 2015, with most of the victims being children.
Of the 58 members of the security forces accused in those cases, 32 were from the army.
'Local inquiry'
The UN has called for a special hybrid international court to try war crimes committed by both sides during the decades-long civil war and especially in the final stages of 2009.
Sri Lanka has promised a local inquiry.
Wednesday's conviction could bolster the government's argument that a domestic process will be credible, our correspondent says.
Rights groups say Sri Lankan forces routinely used sexual violence against suspected Tamil Tiger supporters or members, including after the end of the war.
The International Truth and Justice Project Sri Lanka, based in South Africa, claimed in a report last year - as the case sat before the courts - that the Vishwamadu rape victim had been "repeatedly harassed and threatened by military and police".