And the Republican debate winner is... the British guy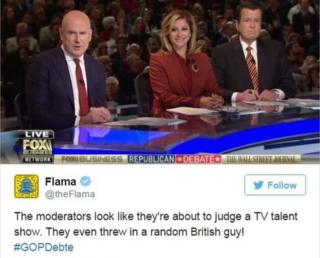 The fourth Republican debate was supposed to be all about Trump v Carson, Bush v Rubio, and everyone v Hillary.
But in a surprising twist, the stand-out performer on the night according to the audience on Twitter wasn't even a candidate.
Step forward Gerard Baker, aka "the British guy", "the guy with no hair" or least flatteringly of all "Humpty Dumpty".
Here's how the Fox Business moderator, editor-in-chief of the Wall Street Journal, became both the hero and the villain of the pantomime.
Some observers enjoyed his smooth delivery:
But others quickly grew suspicious of his provenance:
---
So, who is Gerard Baker?
Oxford-educated economist and now editor-in-chief of the Wall Street Journal
Joined the Journal in 2009 and took charge in 2013
First Briton to moderate a US presidential debate.
---
The irony that immigration was a hot topic was not lost:
Things turned worse as "the British guy" was outed as a baddie:
He quickly lost his shine:
Then history reared its ugly head:
But in the end, the new world order was restored. American sarcasm prevailed: