Motorhead's Lemmy: Your memories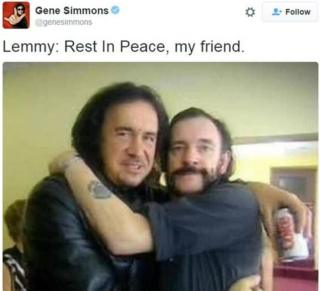 Lemmy, the lead singer of the heavy metal band Motorhead, has passed away, only days after finding out he had an aggressive form of cancer. Ian Fraser Lemmy Kilmister was diagnosed on Boxing Day.
Gene Simmons, lead singer of American hard rock band Kiss tweeted the above photo.
Motorhead's offficial Facebook page announced his death and encouraged people to post their condolences:
And the tributes have been coming in thick and fast both to BBC News and on social media.
#Lemmy and #RIPLemmy have become top trends in countries including Russia, Venezuela, Sweden and the United Arab Emirates.
Musicians have been sharing their grief on Twitter. Here's Queen guitarist Brian May's post:
The rock band Metallica:
Duff McKagan, Guns N' Roses bassist:
And away from the celebrity world of rock, Motorhead fans have been sharing their memories of the man and his music:
Michael Kay in London, UK emails: I saw Motorhead in Toronto in 1982 at the Masonic Temple where the entire band came out and signed autographs with the freezing cold fans waiting in line to get in. It was an incredible moment; no other rock band would have ever done such a thing and they were just nice guys who really appreciated the fans. In 2010 I saw them in London. They just about melted the Hammersmith Apollo down with the heat of their music. What a legendary band; we all feel a huge loss for Phil and especially Lemmy.
Caroline Coxton in Buxted, East Sussex, UK: In 2003, I was the education consultant for the Commonwealth War Graves Commission and produced a DVD for schools about a young boy who died on the Somme. Lemmy graciously gave me permission to use his song 1916 as part of the soundtrack - no royalties required. It's the most tender and moving song and shows a different side to a heavy metal giant. Hardly anyone believed the song was by Motorhead! Such a gent. RIP Lemmy.
Ian Black, who got in touch with BBC News via Whatsapp, remembers being in the right place at the right time at one of their gigs:
And Jacquie Hahn shared her treasured photograph of her family and Lemmy:
Jacquie said: My husband took our daughter to her first Motorhead concert a few years ago. Unfortunately she broke her arm a few days before, but this did get her and her dad - a Motorhead devotee of many years - backstage to have her cast signed by the man himself. He also gave her a couple of girly Motorhead t-shirts for her and her sister. Duff McKagan signed that cast too, and it's a treasured thing.
Zed and Bruce Ryland in Bristol, UK emails: We met Lemmy in his local bar the Rainbow in LA. He was such a gent. He made time to speak to us even though we interrupted his Space Raiders game. Lemmy was by far one of the nicest blokes you could meet, unspoilt by his fame and never forgot his fans. RIP Lemmy. Rock the heavens man.
Some are incredulous at those who have not heard of Lemmy:
Dawn Wilson in Bradford, UK emails: I met Lemmy when he was playing in Bradford around 10 years ago. He came into the casino I worked in. He let us take photos of him with us, I even got to wear his famous hat. He was so friendly and down to earth, what a great guy. Going to be sadly missed.
Jem Matthews in Stithians, Cornwall, UK: I met Lemmy twice when the band were in Oxford on tour. He had that "wildman" tag but was always a true gent and he always had time for a chat if you happened to bump into him. My last meeting with him was in a record store on Little Clarendon Street in Oxford where all three of the original line up were signing copies of the Ace of Spades album. Again he had time for a chat. Lemmy you were a thoroughly decent bloke.
Dylan Chamberlain: Lemmy would often be at the Marquee club on a Friday night at the old Wardour Street (London) venue. He would always chat and talk about the music scene providing you supplied a JD and coke. A real loss, but, a genuine rock star and the only one that was truly accessible to his fans and that is not something that can be labelled to many. RIP Lemmy.
Leopold Aries, a dedicated fan in Paris, has Motorhead permanently on his back:
Leopold said: I saw Motorhead twice. Each time it was really powerful. Lemmy live was AWESOME. He was a real Metal God! Age has no importance. Motorhead played better than many young bands. The whole Metal family lost his father last night. RIP.
Marcus in Welwyn Garden City, UK: What a legend. I met him in a pub 26 years ago and asked if I could sit and chat. "You can do what you like son as long as you buy me a drink", he said. Five JD and cokes later I left on top of the world. Still tell the story to this very day. What a gentleman.
Andy Smith in Brisbane, Australia emails: When I saw Motorhead for the Bomber tour I was deaf for two days. My favourite tune is still Ace of Spades. I pop it on to liven parties up.
Simon Longmore, West Midlands, UK: We truly have lost a rock legend, Lemmy was a true inspiration. RIP Rock god.
Hugh Webb: Motorhead bomber tour Hammersmith Odeon 1979, nuff said.
And illustrator Steve Beaumont, from Leeds, UK, sent his rock farewell:
Compiled by Sherie Ryder