Eastern gorillas threatened with extinction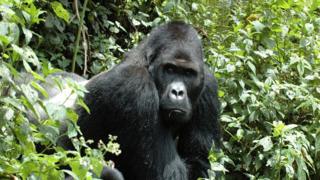 A surge in illegal hunting is threatening the eastern gorilla, the world's largest primate, an international conservation group has said.
The International Union for Conservation of Nature (IUCN) Red List says just 5,000 of the animals remain in their central African habitat.
The number of eastern gorillas has declined more than 70% in two decades.
Four of the six great apes are now critically endangered, the IUCN says.
This means they are just one step away from extinction.
Africa Live: More on this and other African news stories
"Today is a sad day because the IUCN Red List shows we are wiping out some of our closest relatives," Inger Andersen, IUCN director general, told reporters.
The report lists the western gorilla, Bornean orangutan and Sumatran orangutan as the other apes that also face extinction.
The other two great apes, the chimpanzee and bonobo, are listed as endangered.
However, conservation efforts have reversed the gloom fortunes of the giant panda with an increase in numbers recorded.
The official status of the much-loved animal has been changed from endangered to vulnerable because of a population rebound in China.
The IUCN Red List includes 82,954 species, both plants and animals.
Almost one third, 23,928, are listed as being threatened with extinction.