Churches urge support for negotiating politicians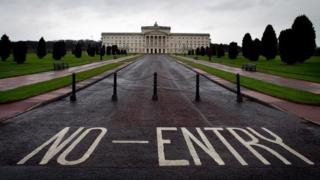 Five Church leaders have issued a statement urging support for "elected representatives in the task of building a stable, peaceful future for all".
It asks for the support of "the whole of society" for politicians, who have three weeks to reach a deal on a new power-sharing executive.
It describes the "potential political impasse" following last week's election as "disheartening".
But it expresses hope at the progress made in recent years.
"The progress that has been made in Northern Ireland in the last two decades in terms of peace and reconciliation seemed unimaginable only a few years earlier, when our society was still dominated by violent conflict," write the leaders.
"The vision that inspired our peace process was one where communities could live free from the threat of violence, with all the benefits of a peaceful society.
"Central to this vision was a commitment to the protection of rights for all, in a context of mutual respect, so that no one would be left behind."
"It was recognised that the victims and survivors of the conflict had undoubtedly paid the highest price for the peace we enjoy today and did so in the hope that a culture of violence would give way to truth and justice and the righting of social wrongs.
The leaders say a culture of blame will only trap people in an endless cycle of instability.
The statement is signed by Archbishop Richard Clarke, the Church of Ireland Archbishop of Armagh, Archbishop Eamon Martin, the Roman Catholic Archbishop of Armagh, Bishop John McDowell, President of the Irish Council of Churches, Rev Bill Mullally, President of the Methodist Church in Ireland and the Rt Rev Dr Frank Sellar, Moderator of the Presbyterian Church in Ireland.
"Our elected representatives need our support if they are to have the courage to put the most challenging issues at the centre of the current negotiations and take responsibility for finding lasting solutions," they write.
"As Christians, we recognise the importance of supporting those in positions of political leadership through prayer and action."