£14k raised from relay used to support Welsh language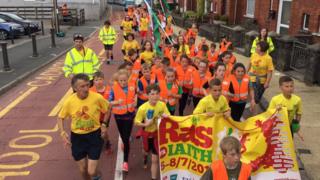 A race to support the use of the Welsh language raised £14,000 which has been split between 45 community groups.
The groups and organisations will use the cash to promote it in their local areas.
Ras yr Iaith took place last July with hundreds of people passing a baton in a relay through towns such as Bangor and Llandeilo, uniting Welsh speakers.
Grants of up to £750 have now been allocated to groups that include sports clubs and festival organisers.
"All sorts of groups have been able to benefit from the race and we hope the money will help to strengthen and increase the use of the Welsh language in their communities," said Owain Gruffydd, chairman of Mentrau Iaith Cymru who supported the race.
Dyffryn Aman High School, Carmarthenshire, was one of five schools to receive a grant and will use the money to invite a Welsh language rock band to perform.