Belfast councillors agree to investigation into storage of pallets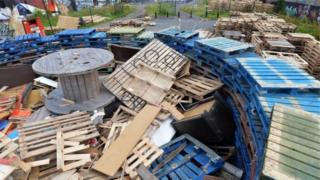 Belfast City councillors have all agreed to an investigation into the council's involvement in the collection and storing of bonfire pallets.
In June, the council confirmed the pallets were related to bonfire sites on Chobham Street and Hope Street.
They were due to be returned to the sites before the Eleventh night bonfires.
The PSNI then confirmed it was investigating the alleged theft of the pallets from council land in Belfast.
There was no public dispute about the issue at Monday's all-party meeting.
The DUP said that even though they supported the investigation, they believed the council did nothing wrong.
Sinn Féin disagreed, saying they were not told about Belfast City Council's actions and it should not have taken place.
The SDLP also believe the council should not been involved in storing bonfire material.
DUP councillor Lee Reynolds said: "They were trying to operate in a difficult situation to deliver the best for the city.
"I will being willing to back officers who approached a problem that way and tried to deliver the best for the city".
SDLP councillor Tim Attwood said he did not agree with the actions.
"I support the bonfire management strategy and recognise they are part of a cultural celebration but we should not be complicit in bonfires," he said.
"The reputation of the council was damaged by doing this - it was crossing a line," he added.
The investigation is due to be completed by September.