What does Pride mean to you?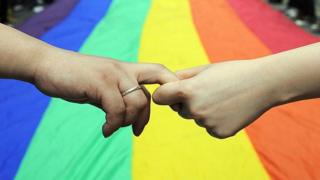 The Pride in London parade takes place on Saturday 8 July and the BBC wants to hear from you.
Pride provides a platform for global LGBT+ communities to celebrate sexual and gender diversity. It raises awareness of issues through various events, culminating in the Pride parade.
This year the parade marks its 45th anniversary. So what does Pride mean to you?
The BBC would like you to record a short video on Snapchat or Instagram Stories telling us why Pride is important to you.
Feel free to personalise it with emojis and other effects you may like to use, and then download your creation and send it on to us.
You can send us your downloads in the following ways: