Boston man's deportation rattles Irish community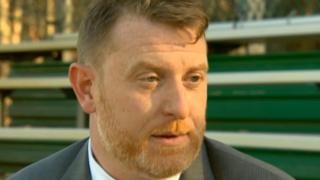 US authorities have deported an Irish businessman who lived in Boston for 17 years, sending shockwaves through the state's expatriate community.
John Cunningham, 38, was deported on Wednesday night, the US Immigration and Customs Enforcement has confirmed.
The electrical contractor was arrested at home on 16 June after failing to appear in court following a payment dispute with a customer.
Mr Cunningham reportedly came to the US in February 2000 on a 90-day visa.
A warrant was issued for his arrest after he failed to appear in court in October 2014 to answer a client's allegation that Mr Cunningham charged him $1,300 (£1,000) for work that was never completed.
Mr Cunningham, of Glencolmcille, Co Donegal, did not have a Green Card and was not entitled to a hearing under the terms of his visa, US Immigration and Customs Enforcement (ICE) said.
The Boston Globe reports that Mr Cunningham was a former chairman of the local Gaelic Athletic Association and had lobbied for US immigration reform.
Ronnie Millar, of the Irish International Immigrant Center, told the newspaper: "If they'll go after John Cunningham, they'll go after anybody.
"John is so well-known and so well-liked. If John Cunningham is not safe, no one is safe."
However, ICE spokesman Shawn Neudauer denied the case had anything to do with the Trump administration's crackdown on illegal immigration.
"This has always been a priority," Mr Neudauer told the Irish Independent.
"People were arrested and removed under the prior administration going back many years."
An estimated 50,000 Irish citizens live illegally in the US.
More on immigration
Six things that could topple Trump's wall plan