Let's save Maya Angelou from fake quotes
By Rebecca Seales
BBC News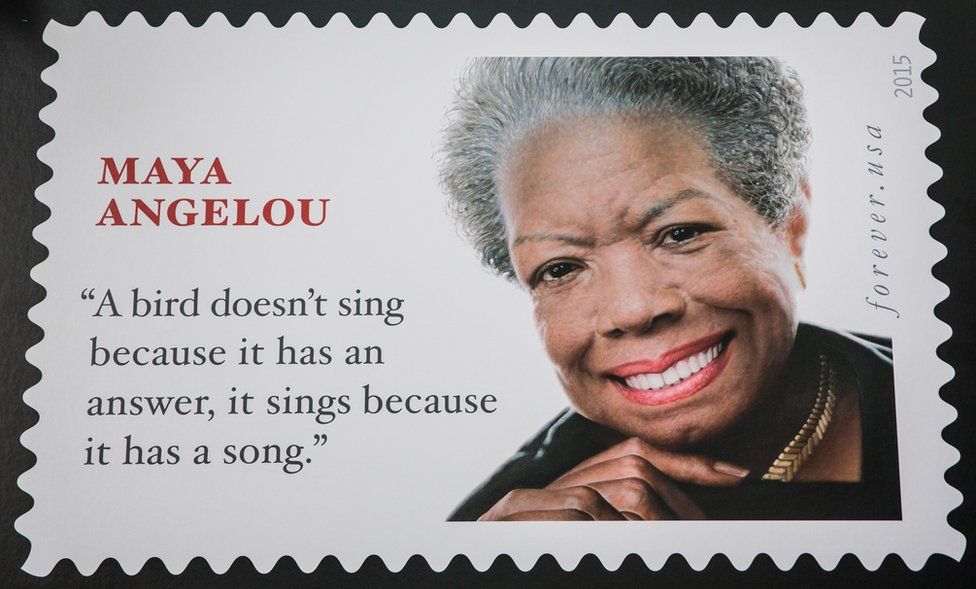 "A bird doesn't sing because it has an answer, it sings because it has a song."
A thought-provoking sentiment, I'm sure you'd agree. You might even be tempted to quote it.
That impulse certainly struck the US postal service, which in 2015 put it on a stamp bearing the face of Maya Angelou, the world-renowned writer, professor, former dancer, calypso singer, filmmaker and civil rights activist who died the year before.
The only problem? She didn't write it.
Dr Maya Angelou was chosen as an official poet by Bill Clinton and the UN. Her seven memoirs have sold millions of copies around the world. She is a cultural icon - and among the world's most misquoted women.
The US postal service defended its blunder by saying the quote was "associated" with Angelou, and that she used it in a 2013 interview.
It could also have pointed the finger at President Barack Obama, who misattributed the line while handing out the 2013 National Medal of Arts, and National Humanities Medal.
The phrase was traced to a children's author named Joan Walsh Anglund, and her 1967 book, A Cup of Sun - though she referred to the bird as "he", not "it".
Anglund was gracious, saying of the stamp: "I haven't read all of [Angelou's] things, and I love her things, of course. But I think it easily happens sometimes that people hear something, and it's kind of going into your subconscious and you don't realise it."
Twitter users raised a laugh with their own versions of the blooper.
But not everyone feels able to shrug off such blunders. For some, combating wrongful quotation becomes almost a life's work.
Gregory F. Sullivan, who runs the Quote Investigator (QI) website, is one such figure.
"Some of the massive quotation websites online are filled with misinformation," he told the BBC.
"These sites exacerbate the problem because many people incorrectly assume that large, professional-looking websites must contain valid data."
Sullivan writes with a pseudonym - Garson O'Toole - under which he wrote the book Hemingway Didn't Say That: The Truth Behind Familiar Quotations.
Many of the phoney phrases he debunks on his blog are emailed in by curious readers.
A quick Google search for "Maya Angelou quotes" brings up an eye-stretching 10.8 million results - so perhaps it's no surprise she makes several appearances.
The first quote that shows up highlights the scale of the problem.
"They may forget what you said - but they will never forget how you made them feel."
Ironically for Carl, this development makes his point perfectly.
A spokesperson for Google told the BBC that search results in its "featured snippets" section, pictured above, come from third party sources - i.e. other websites.
What shows up is decided by Google's algorithm, which uses markers including how "authoritative" it thinks a website is. And unfortunately, the algorithm isn't always right.
QI thinks these Angelou-linked quotes are dodgy, too:
"I've learned that you can tell a lot about a man by the way he handles these three things: a rainy holiday, lost luggage, and tangled Christmas tree lights."
"Life is not measured by the number of breaths we take, but by the moments that take our breath away."
But she did write this one:
"It must be remembered, however, that jealousy in romance is like salt in food. A little can enhance the savour, but too much can spoil the pleasure and, under certain circumstances, can be life-threatening."
Misquoting made Martin Luther-King look 'a twit'
Dr Angelou made her own passionate stand against bad quoting in 2011, over a Martin Luther King memorial in Washington DC.
It originally appeared in a haunting sermon given by Dr King two months before his assassination, where he predicted what his eulogy would say.
"Yes, if you want to say that I was a drum major, say that I was a drum major for justice," he told those present. "Say that I was a drum major for peace. I was a drum major for righteousness. And all of the other shallow things will not matter."
"The quote makes Dr Martin Luther King look like an arrogant twit," said Angelou, who knew King through the US civil rights movement.
"He was anything but that. He was far too profound a man for that four-letter word to apply. He had no arrogance at all. He had a humility that comes from deep inside. The 'if' clause that is left out is salient. Leaving it out changes the meaning."
The controversial paraphrase was finally removed when the US government stepped in.
So why do people keep pinning quotes on Maya Angelou?
Basically, it's because the lines she did write were so good. Her quotability makes her a magnet for misattribution.
Got a sage, compassionate line with no recorded owner? Just say it was Maya, the logic runs.
Unless it's too spiritual, in which case try Gandhi or Mother Theresa. Or too girlish - then there's Marilyn Monroe. Or too spiky, when the obvious candidates are Dorothy Parker, Oscar Wilde, Mark Twain, or Winston Churchill. All eminently quotable men and women - and too dead to disclaim the words they never said.
Your correspondent feels bad about debunking what may have been dearly-loved quotations. Recompense is perhaps due, especially to anyone who had them tattooed.