How did music producer Gramatik raise $2m in 24 hours?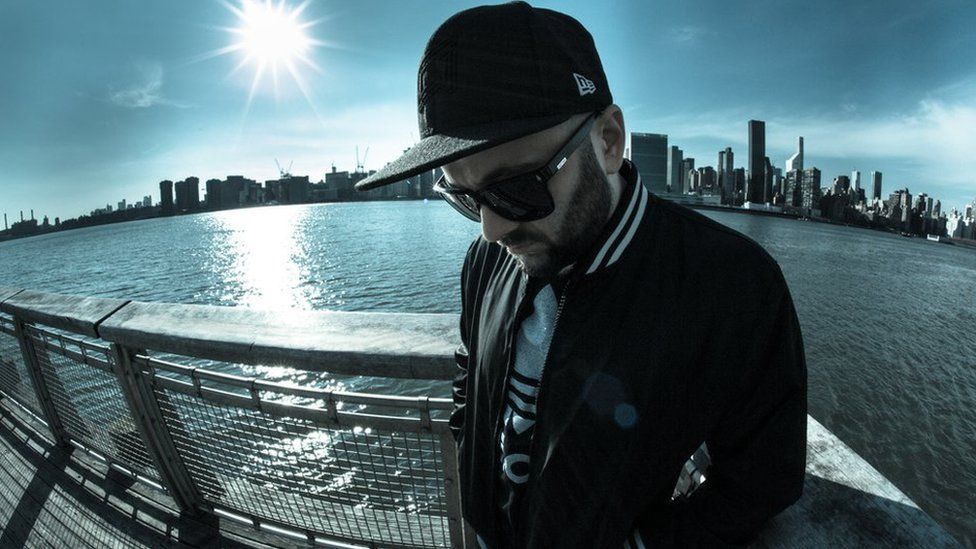 Rows between artists, managers and their record labels often become the stuff of music legend, but does blockchain technology mean that musicians could soon just deal directly with their fans - and keep far more profit for themselves?
Gramatik - real name Denis Jasarevic - is a Slovenian electronic music producer and DJ with a worldwide fan base.
He's become the first music artist to "tokenise" himself using the Ethereum application, Tokit. It allows users to embed their intellectual property rights, revenue and royalties into a programmable digital token.
Fans and investors who "buy" the token using the Ether cryptocurrency can then - potentially - share in the revenue from an artist's work.
But why has he decided to do this?
"I had a bad experience with a small record label and I have friends in the music industry who've had way worse experiences than me," Gramatik says.
"I don't need a major label sucking the life out of me. I was always annoyed about the intermediaries in the industry who extract monetary value from artists. It means creatives have to be business savvy and a lot of them aren't.
"Using the blockchain has fixed the problem for me."
When his GRMTK token was launched in November it raised $2.25m (£1.65m) in Ether digital currency in just 24 hours.
"I'm cool with being the guinea pig," Gramatik explains. "This tech has the potential to change the industry."
The GRMTK token was created by SingularDTV, an entertainment tech studio set up by Ethereum co-founder Joe Lubin, along with Zach LeBeau and Kim Jackson.
According to Mr Lubin, artists bypassing labels to have a direct financial relationship with fans via blockchain is the future. He explains how it works.
"Artists are able to put their content on the Singular platform. We attach usage policies to that content and then users can buy a licence in real time. And their payments can also be split between artists - and their collaborators, producers, writers - in real time.
"It means artists can get rid of some business sections of the music industry, and perhaps end up charging less for their music, but get a bit more as content creators."
As well as the Singular platform, Mr Lubin is about to launch another platform called Ujo.
Artists are broadly positive about the idea, Mr Lubin, says: "We're talking to some very prominent ones, I just can't name them."
But the drawback of the Ethereum blockchain is that it can't yet support large-scale transactions between artists and fans, he says.
"It's not that scalable yet in the sense it can only do about 20 to 30 transactions per second, but the tech is growing pretty quickly.
Gartner analyst Alistair Newton agrees, saying: "Right now, if an artist with a fanbase of an Ed Sheeran got involved in this, it would crash the system."
But Mr Lubin believes the technology will get there.
"In 18 months to two years, we could have 100,000 transactions per second, and at that point you'd be able to handle the surge of a big artist release."
Ethereum's cryptocurrency Ether may play second fiddle to Bitcoin, but it still has a market capitalisation of nearly $66bn, with one Ether currently priced at $675.
Bitcoin's price rocketed to beyond $17,000 in December and has a market capitalisation of more than $100bn.
Many commentators are calling this a classic investment bubble. But Mr Lubin believes that the current cryptocurrency hype is "necessary."
"It's one of a series of bubbles and the bubbles are going to continue. They're going to get bigger and bigger and each one drives another layer of innovation," he argues.
"Bitcoin is just a killer app going on the blockchain space right now, it's been seen as Gold 2.0 - a better, easier gold to store and value.
More Technology of Business
"In the Ethereum space the killer app is our use of tokens."
Zach LeBeau of Singular DTV compares Tokit to an advanced crowdfunding platform where instead of receiving "a mug or a T-shirt for putting your money in", you share in "an artist's royalties and revenue".
"You are investing," he says.
But Mr Newton believes the digital wallet technology has to become much more user-friendly if it is to become mainstream. And artists and investors alike need to understand that the value of the token can go up and down.
"It's great if you can understand the risks, but it's a complex world with some smart people setting the rules, and everyone needs to go in there with their eyes open," he warns.
Mr LeBeau acknowledges that there have been many concerns around such cryptocurrency fundraising schemes - also known as Initial Coin Offerings - and insists his company wants to avoid the "pump and dump" mentality of some digital currency investors.
The vision instead is to create "a sustainable entertainment economy by tokenising different music, film and TV platforms", he says.
"I believe there might be a blueprint here for an universal basic income in the future."
Blockchain technology could pose the greatest threat to record labels since music streaming service Napster came along at the turn of the century. And it could have similar implications for film studios, should movies and TV shows also become "tokenised".
"Sooner or later, artists are going to get used to the idea of distributing their own intellectual property," says Kim Jackson, Singular DTV's president of entertainment.