'Frantic Friday': Christmas getaway delays for drivers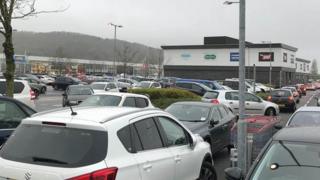 Thousands of travellers have hit the roads for the Christmas getaway on what has been billed as "frantic Friday".
The worst hold-ups were expected between 16:00 GMT and 20:00.
The Welsh Government said it had ensured no road works were taking place other than essential or emergency work.
Inrix traffic analysts estimated about three million vehicles would be on the UK's roads on Friday, with approximately 150,000 of those in Wales.
It said in north Wales, congestion on the A55 was highly likely around the Britannia Bridge, linking Anglesey and the mainland, because of increased demand on Holyhead ferry port.
Cardiff Airport advised customers to allow plenty of time for their journey.
And passengers at Bristol Airport were warned to expect delays after a plane came off the runway after landing, forcing a suspension of flights.
Great Western Railway said it expected train services to be in demand, especially from lunch time to the early evening.
Arriva Trains Wales said it was likely trains will be busier than normal and asked passengers to consider their safety when travelling under the influence of alcohol.