Florida school shooting: US airline to lose tax break over NRA row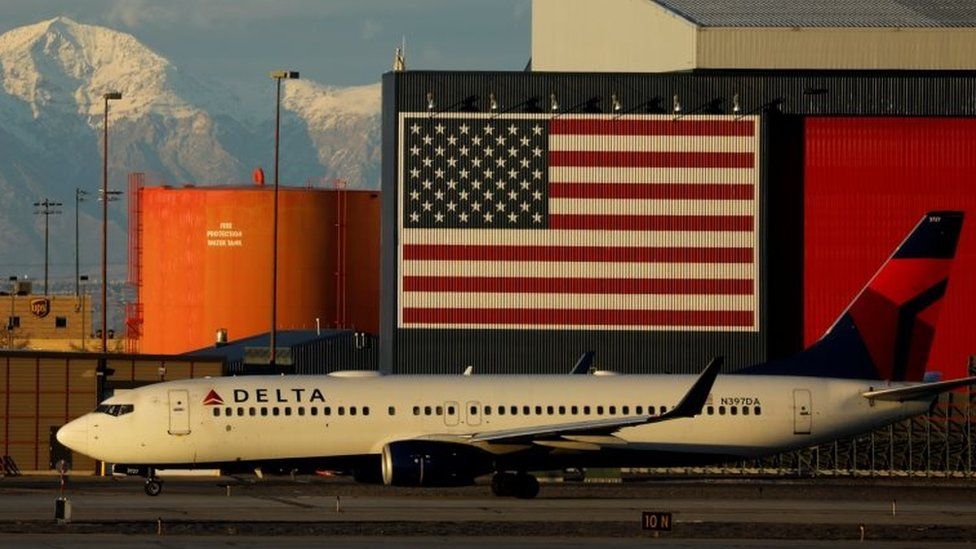 The governor of the US state of Georgia has signed into law a bill denying Delta Air Lines a tax break after the firm cut ties with the US gun lobby.
The Atlanta-based airline ended its discount for members of the National Rifle Association (NRA) after a Florida school shooting left 17 people dead.
Georgia Republicans vowed to strip a bill of a jet fuel tax exemption that would benefit the carrier as a result.
Delta is one of several firms to end relations with the NRA in recent days.
The state House of Representatives and Senate, both controlled by Republicans, passed a sweeping tax package within hours of each other on Thursday that was amended to exclude a $50m (£36m) sales-tax exemption.
Governor Nathan Deal tweeted on Friday that he had signed the bill into law. He made no mention of the Delta controversy.
Today I signed HB 918 into law, allowing Georgians to immediately file their 2017 income tax returns. I join members of the General Assembly in celebrating this historic $5 billion tax reform deal. pic.twitter.com/Xp3xSnnizA

— Governor Nathan Deal (@GovernorDeal) March 2, 2018
Delta irritated state lawmakers on Saturday after it dropped its discount for NRA members in the wake of the deadly school shooting in Parkland, Florida.
The suspect in the 14 February attack, Nikolas Cruz, was said to be obsessed with guns and bought the semi-automatic rifle he allegedly used at the school in Parkland legally last year while aged 18. The shooting has renewed a national debate on gun control.
Lieutenant Governor Casey Cagle who spearheaded the pro-NRA initiative warned he would kill the bill if it did not include blocking Delta from tax exemptions.
I will kill any tax legislation that benefits @Delta unless the company changes its position and fully reinstates its relationship with @NRA. Corporations cannot attack conservatives and expect us not to fight back.

— Casey Cagle (@CaseyCagle) February 26, 2018
Meanwhile, President Donald Trump met the NRA's top lobbyist at the White House on Thursday. Both sides said they had a "great" meeting.
Good (Great) meeting in the Oval Office tonight with the NRA!

— Donald J. Trump (@realDonaldTrump) March 2, 2018
I had a great meeting tonight with @realDonaldTrump & @VP. We all want safe schools, mental health reform and to keep guns away from dangerous people. POTUS & VPOTUS support the Second Amendment, support strong due process and don't want gun control. #NRA #MAGA

— Chris Cox (@ChrisCoxNRA) March 2, 2018
The meeting came a day after President Trump stunned members of Congress by accusing them of being "petrified" of the NRA.
In a departure from his anti-gun control stance, he urged lawmakers to come up with a "strong" reform bill.
NRA lobbyist Chris Cox tweeted that the president supported the right to bear arms.
Delta joined United Airlines and several other American companies in dropping ties to the powerful gun advocacy organisation after activists called for a boycott of the NRA's corporate partners on social media.
The company said it was taking a "neutral" position on the debate despite abandoning its partnership with the NRA.
"Out of respect for our customers and employees on both sides, Delta has taken this action to refrain from entering this debate and focus on its business," the airline said in a statement on Saturday. "Delta continues to support the 2nd Amendment."
Georgia Lieutenant Governor Casey Cagle threatened to block the legislation containing the lucrative tax exemption earlier this week unless the company reversed its decision.
"I will kill any tax legislation that benefits @Delta unless the company changes its position and fully reinstates its relationship with @NRA," Mr Cagle wrote on Twitter.
"Corporations cannot attack conservatives and expect us not to fight back."
The Georgia tax bill will now go to the desk of Republican Governor Nathan Deal, who is expected to sign it into law.
Meanwhile, Fox News host Tucker Carlson launched a rare attack on Mr Trump during his Thursday night show.
The presenter railed against the president's suggestion during a White House meeting this week that guns should be taken away from potentially dangerous people before due process.
Carlson said: "Imagine if Barack Obama had said that. Just ignore due process and start confiscating guns."
The Fox News host said former President Obama would have been "denounced as a dictator" if he had made such a comment.