Snake found in Pontyclun sparks exotic pet warning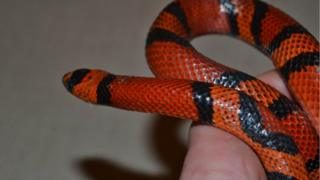 An injured snake found abandoned in the street is recovering after being found by a member of the public.
The Honduran milk snake, nicknamed Carlos, was discovered on a driveway in Pontyclun in March.
RSPCA Cymru said it "shuddered to think" what could have happened if Carlos had not been found.
The snake had a few healed cuts and grazes, suggesting he had been on the loose for some time.
His discovery has prompted the RSPCA to warn would-be pet owners to do their research before buying exotic animals.
He was taken to a local vets, where the charity picked him up and took him to the Proteus Reptile Trust in Dudley.
Staff there said they were confident Carlos would make a full recovery and could even be re-homed in the next few weeks.
Elaine Spence, RSPCA chief inspector for south east Wales, said he may have been dumped deliberately.
"I shudder to think what could have happened to the poor animal had a member of the public not found the snake," she said.
With no CCTV cameras covering the area, the RSPCA has urged anyone who might have seen Carlos being dumped to get in touch.