BBC Young Reporter Competition: Young people tell the stories that matter to them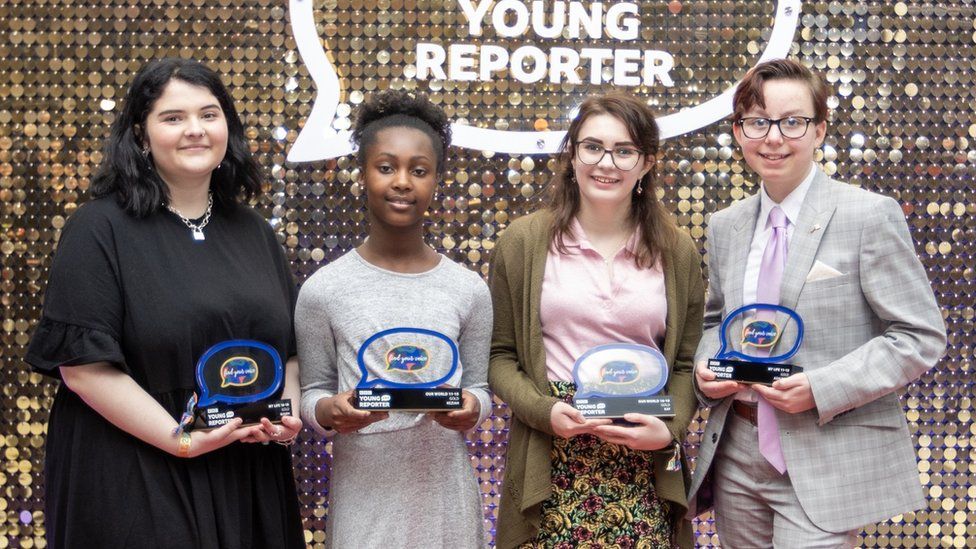 The BBC Young Reporter Competition 2020-21 is now open for entries. To suggest a story idea and all the competition details click here.
The impact of a girl's twin sister becoming her twin brother, how alcoholism can affect families, the lack of diversity in books, and volunteering to overcome mental health problems were stories which won the national prizes in this year's BBC Young Reporter Competition.
More than 2,000 young people around the UK submitted powerful original stories for the contest.
More than 30 of them were given the opportunity to report on their story for the BBC.
The competition, which is in its second year, is an opportunity for 11-18 year-olds to tell their unique stories on TV, radio, online or on social media with the help of BBC journalists, producers and programme-makers.
In addition to national winners, this year's competition included local stories chosen by regional judging panels, across England, Wales, Northern Ireland and Scotland.
The entries were judged by BBC editors, journalists and presenters including Tina Daheley, Huw Edwards, Nikki Fox, Ricky Boleto, Mim Shaikh, Katie Thistleton and Alex Jones.
Watch some of the competition winners' stories
Ashleigh, who won the 'My World 11-15' prize, wrote about how she coped with her twin sister becoming her twin brother.
"It was very difficult to share it," she said after winning. "I decided to as it might help other people who might be in this situation in the future or now."
Zoe took silver for talking about life with dwarfism, a story she produced with BBC Breakfast and Newsround. And the bronze went to an anonymous daughter of a father in prison.
"It took me years to accept it, but to speak about it now I felt strong enough," she said.
Football referee Ryan won silver after talking about the abuse he receives.
Bronze went to Callum, who has a stutter and is coaching other people with the same condition.
Keziah took the gold award in the 'Our World 11-15' section for her report on the lack of black representation in books.
"I just want to make an impact on the world and make sure that everybody that's as young as me gets to see themselves represented in books that they read," she said.
In the older 'Our World' category, Kay explained how volunteering in the community helps with her mental health.
"When you've got mental health (issues), you think about yourself, and by giving your time to others such as volunteering in community projects, you're thinking about others and not focusing on yourself so much," she said after receiving her winners' trophy.
Nations and regions winners
In Northern Ireland, Roisin told the story of how she has recovered from a stroke and has had to relearn to walk, use her arm and talk.
Eamonn won silver for his report on overuse of mobile phones, and Mollie won bronze for her report on environmental dangers.
The winner in Scotland was Catriona, who explained why she wanted improved mental health provision in the country's schools.
Silver went to Ross, who wanted to find out why basketball does not get more coverage, while Charlotte took bronze for raising awareness of Hirschsprung Disease.
Elen took the prize for Wales after sharing her experience of coping with the loss of her hair.
Tyde won gold in England's North region, talking about the stigma surrounding suicide in men, after his grandfather took his own life last year.
Daniel took silver for his report on living with allergies, while bronze went to Safaa, who leads a double life as a Muslim in a Church of England school.
The the winner in the Midlands region was Dylan, who was born a girl but now sees himself as male and wants to make conversations about gender identity less complicated.
Silver winner Ruben wanted to highlight the lack of mainstream make-up for mixed race people, and Morgan, who won bronze, reported on upskirting.
In the South East region, the prize went to Stephanie who reported on the fact she has no white friends and questioned whether multiculturalism is another word for segregation.
Ella, who won silver, became deaf at 11, but had to wait for extra classroom help. Bronze went to Oliver, who is challenging the stigma around the Roma community.
And in the South West region, Alex was the gold winner for explaining what is is like to be the child of a parent who spends a lot of time away on active service.
Lilia took silver for her report on lack of girls at skate parks, and bronze was won by Tahir for his piece on why drill music is misunderstood.
The finalists were recognised at a special awards ceremony at BBC Broadcasting House on Tuesday where the winners of each category will be awarded gold, silver or bronze in recognition of their entries originality and editorial merit.
The BBC Young Reporter competition gives young people a unique chance to tell their story on TV, radio, online or on social media with the help of BBC journalists, producers and programme makers.
There were two categories - 'My Life' and 'Our World' - and two age groups for each of these, 11-15 or 16-18. The judges were looking for powerful personal stories related to subjects not usually broadcast on the BBC.
Watch a BBC News Channel special programme "BBC Young Reporter Competition - The Winners" on Friday 13 March at 2030.