Park Won-soon: Mayor of Seoul found dead after going missing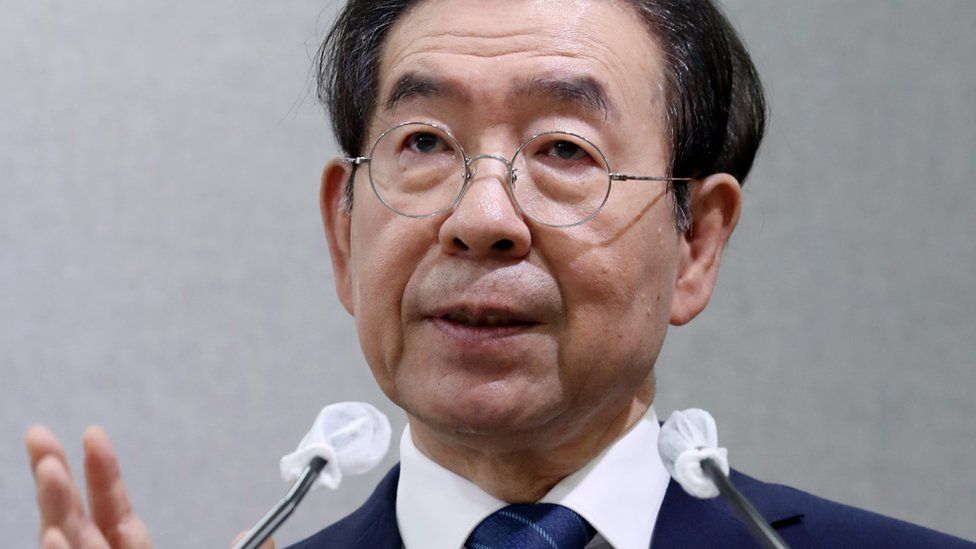 Police in the South Korean capital Seoul have found the body of the city's mayor after he went missing on Thursday.
Park Won-soon's daughter reportedly told police he had left a message before leaving the house, leading her to raise the alarm.
His body was found at Mount Bugak in northern Seoul, near where his phone signal was last detected.
No cause of death has been officially recorded.
But police said they were investigating the case as a suicide.
A note was released that was left by Mr Park in his office. It read: "I apologise to everyone. I thank everyone who was with me in my lifetime. I am so sorry to my family, to whom I have only caused pain. Please cremate my body and scatter the ashes at my parents' grave. Goodbye everyone."
It is reported that a female employee had filed a sexual harassment claim against the 64-year-old on Wednesday, the day before he went missing, thought there has been no official confirmation of the complaint.
Mr Park did not show up for work on Thursday, cancelling a meeting with a presidential official at his Seoul City Hall office. A message reportedly left for his daughter led to her raising the alarm, and police began to search a wooded area in the north of the city where his phone signal was last detected.
He was seen by a security camera at 10:53 near the entrance to the woods. About 600 police and fire officers using drones and dogs searched the area for hours on Thursday.
His body was found in the woods on Mount Bugak at 00:01 (16:01 BST) on Friday. His body was moved to the Seoul National University hospital, where crowds gathered and politicians visited throughout the day on Friday.
Mr Park was first elected mayor of Seoul in 2011 and elected to an unprecedented third and final term in June of last year.
He clashed with President Park Geun-hye, openly supporting millions of people who protested against her in 2017 before she was eventually charged and imprisoned on bribery and other charges.
As a member of President Moon Jae-in's liberal Democratic Party, Mr Park was reportedly under consideration as a potential presidential hopeful in the 2022 elections.
Analysis: A death mired in controversy
Laura Bicker, BBC News, Seoul
Mayor Park Won-soon was well liked for a reason.
As a lawyer, he had fought to further the cause of women - winning the country's first sexual harassment case. He highlighted this country's many economic inequalities, once even spending a month in a cramped home in a poor part of the city.
He fought against authoritarian rule in South Korea and was put in prison in the 1970's as a college student, and went on to win an unprecedented third term as mayor of Seoul.
But his death is now mired in controversy.
We may now never get to the truth behind the claims of sexual harassment filed against him just hours before his death.
The investigation has been dropped which means there will be no further inquiry into potentially serious issues within one of the highest political offices in the country. There will also be no justice - either for his alleged victim or for him.
If you or someone you know are feeling emotionally distressed, BBC Action Line has more information.
In the UK you can call for free, at any time to hear recorded information 0800 066 066.In addition, you can call the Samaritans free on 116 123 (UK and Ireland). Mind also has a confidential telephone helpline- 0300 123 339 (Monday-Friday, 9am-6pm). Links for help in South Korea can be found here.