Covid vaccine: 'Disappearing' needles and other rumours debunked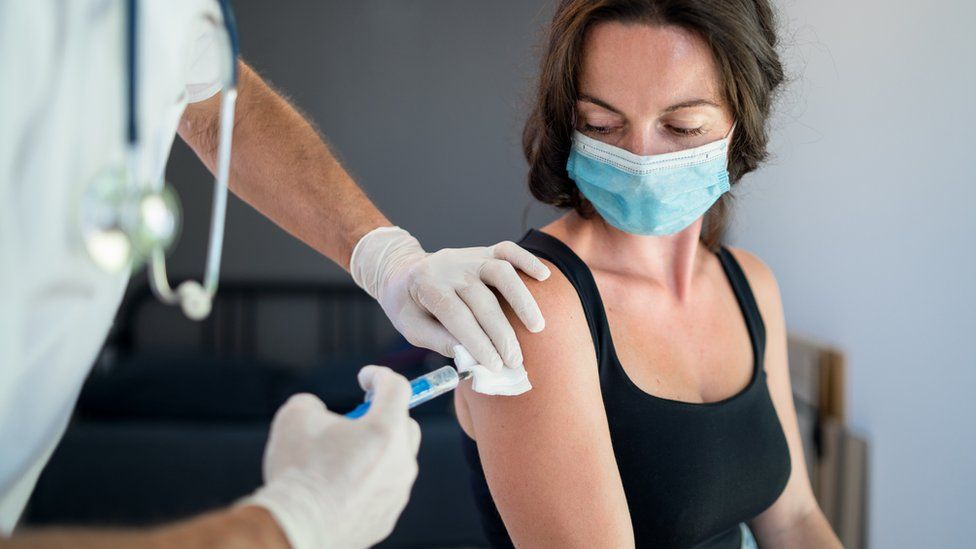 The roll out of Covid-19 vaccines in the UK and US this week has led to a spate of new false claims about vaccines. We've looked into some of the most widely shared.
BBC News footage is being passed off as "proof" on social media that Covid-19 vaccines are fake, and that press events showing people being injected have been staged.
The clip, from a report which aired on BBC TV this week, is being shared by anti-vaccine campaigners. They claim fake syringes with "disappearing needles" are being used in an attempt by the authorities to promote a vaccine that doesn't exist.
One version posted on Twitter has had more than 20,000 retweets and likes, and half a million views. Another major spreader of the video has been suspended.
The posts use genuine footage showing healthcare professionals using a safety syringe, in which the needle retracts into the body of the device after use.
Safety syringes have been in widespread use for over a decade. They protect medical staff and patients from injuries and infection.
It's not the first time claims of fake needles have appeared since vaccine roll out began.
One showed an Australian politician posing with a syringe next to her arm, the needle clearly covered with a safety cap, with claims that her Covid-19 vaccination had been faked.
But in reality, it showed Queensland premier Annastacia Palaszczuk posing for the cameras after receiving a flu vaccine in April. The video has had close to 400,000 views on Twitter.
Photographers had asked for more photos because the real injection happened too quickly.
No nurse has died in Alabama
Public Health authorities in Alabama released a statement condemning "misinformation" after a false story that a nurse died after taking the coronavirus vaccine spread on Facebook.
The state had just started injecting its first citizens with the jab.
After being alerted to the rumours, the department of public health contacted all vaccine-administering hospitals in the state and "confirmed there have been no deaths of vaccine recipients. The posts are untrue."
The BBC is not responsible for the content of external sites.
The story emerged with Facebook posts saying one of the first nurses - a woman in her 40s - to receive the Covid vaccine in Alabama, was found dead. But there's no evidence this has happened.
One user said it happened to her "friend's aunt" and posted text message conversations she said she'd exchanged with the friend.
Some of the original posts about the nurse are no longer online, but screenshots are still being shared and commented on. One of these suggests the incident took place in the city of Tuscaloosa, Alabama.
The city hospital told us the very first Covid vaccine was only administered on the morning of 17 December - after the reference to Tuscaloosa was mentioned on Facebook.
As of 00:30 on 18 December, the US Centers for Disease Control say they have received no reports of death anywhere in the country following the coronavirus vaccine.
The posts have been labelled "false" on Facebook but some people claim without evidence that the "powers that be are already trying to cover it up".
'Experts' video contains slew of false claims
A 30-minute video which went live as the first people in the UK received the Pfizer Covid-19 vaccine, contains a host of false and unsubstantiated claims about the pandemic.
The film, called "Ask the experts", features around 30 contributors from several countries, including the UK, US, Belgium and Sweden. Covid-19 is described by one of these people as the "greatest hoax in history".
It begins with the claims that there is "not a real medical pandemic", and that the coronavirus vaccine is not proven safe or effective because there "has not been enough time".
Both of these claims are untrue.
The BBC has written at length about how any vaccine approved for use against coronavirus will have been rigorously tested for safety and efficacy. It's true Covid-19 vaccines have been developed at a remarkable pace, but none of the steps needed to ensure safety have been skipped.
"The only difference is that some of the stages overlapped so, for example, phase three of the trial - when tens of thousands of people are given the vaccine - started while phase two, involving a few hundred people, was still going on," says BBC Health reporter Rachel Schraer.
Other participants in the video who appear on screen repeat the same unfounded claims.
We also hear inaccurate theories about the technology behind Pfizer's Covid-19 vaccine. And that, because of the pandemic, the pharmaceutical industry has been given permission to "skip the animal trials...we humans will be the guinea pigs."
This is false. The Pfizer BioNTech, Moderna and Oxford/AstraZeneca vaccines have all been tested in animals as well as thousands of people, before they could be considered for licensing.
The video was posted on a hosting platform that positions itself as an alternative to YouTube, says Olga Robinson, a disinformation expert from BBC Monitoring.
"Promising low content moderation, sites like this have in the past months become a go-to place for those users kicked off major social media platforms for spreading misinformation."
Additional reporting by Alistair Coleman and Olga Robinson.