Facebook in Australia: What happened after news was blocked?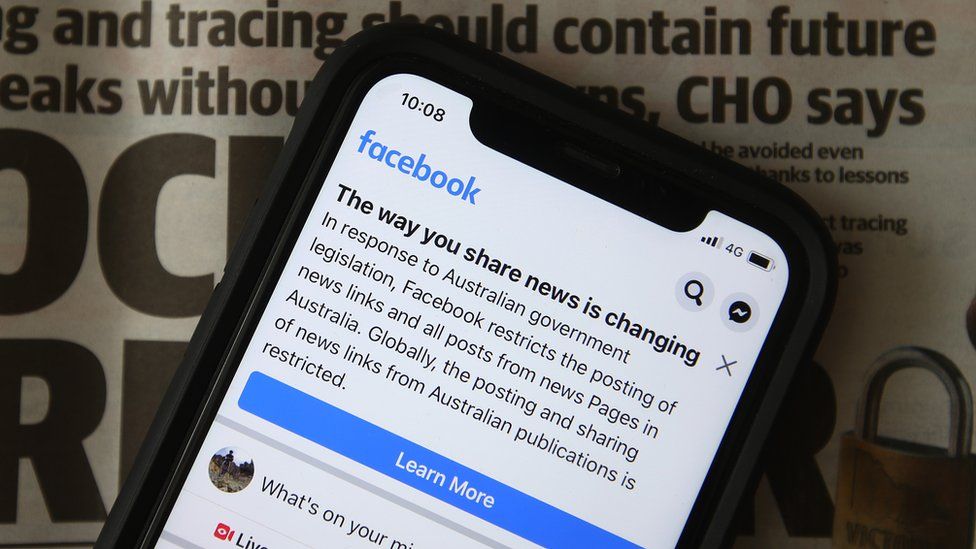 Critics of Facebook say the company's ban on news appearing on its platform in Australia has made it more difficult for people to access reliable sources - and increased the influence of bad and misleading information.
It quickly became clear that one effect of the tech giant's move was that in addition to news providers, emergency services were also being blocked.
Some Australian government health-department and emergency-services pages found that their Facebook accounts had been affected.
They were later restored after Facebook was notified.
The BBC is not responsible for the content of external sites.
Skip twitter post by DFES
Allow Twitter content?
This article contains content provided by Twitter. We ask for your permission before anything is loaded, as they may be using cookies and other technologies. You may want to read Twitter's cookie policy, external and privacy policy, external before accepting. To view this content choose 'accept and continue'.
The BBC is not responsible for the content of external sites.
End of twitter post by DFES
Welfare groups such as Women's Health Tasmania also faced difficulties.
"We stream physical activity classes through Facebook," says Jo Flanagan, the group's chief executive. "We push public-health-generated Covid updates.
"Clients use messages on Facebook to contact us when they don't have phone credit. It was very disruptive."
The page is now working again.
Will Easton, managing director of Facebook Australia, said: "Pages such as government, public-safety and education pages should not be impacted by this announcement.
"We apologise to any pages that were inadvertently impacted."
The day after the ban, we checked some of the pages that had faced problems, including a satirical-news site, a women's legal-services page, and a weather-forecasting platform. They had all been reactivated.
Facebook says it's working to restore other sites that have also been blocked inadvertently.
Has bad information increased?
We can't give a definitive answer to this for all Facebook users in Australia.
But we've done some digging with data-analysis tool CrowdTangle, itself part of the Facebook family of online products.
Using CrowdTangle, it's possible to look at the most engaged with posts from Facebook pages with admins based in a country - it therefore gives you a pretty good idea what's been shared on that subject.
In one example, we looked at Facebook posts from pages in Australia related to Covid-19 and vaccines over two 24-hour periods - before and after the ban was imposed.
In four separate searches before the ban, the overwhelming majority of the top 20 performing posts and links came from verified pages of well-known media organisations, government and public-health bodies - only one or two posts with potentially misleading content.
After the ban, the same searches revealed up to five posts containing misleading content about Covid-19 or vaccines
After the ban, a search for posts with links to external websites led us to content from alternative- or holistic-medicine pages, some expressing anti-vaccine views. These pages weren't classified as "news", and following the ban they could still be accessed via Facebook.
Facebook has responded to its critics by saying its commitment to combating misinformation has not changed.
"We are directing people to authoritative health information and notify them of new updates via our Covid-19 Information Centre," it says.
"We're also continuing our third-party fact-checking partnerships with AAP (Australian Associated Press) and AFP (Agence France-Press), who review content and debunk false claims online."
However, Peter Bodkin, editor of the AAP fact-checking team, says his news organisation's content is being restricted. The AAP can still rate and label posts on Facebook and tack on links to reliable AAP stories, but users cannot share the site's articles themselves.
"It seems like a terrible outcome, to state the obvious," he says.
The BBC is not responsible for the content of external sites.
Skip twitter post 2 by Peter Bodkin
Allow Twitter content?
This article contains content provided by Twitter. We ask for your permission before anything is loaded, as they may be using cookies and other technologies. You may want to read Twitter's cookie policy, external and privacy policy, external before accepting. To view this content choose 'accept and continue'.
The BBC is not responsible for the content of external sites.
End of twitter post 2 by Peter Bodkin
Fact-checking sites are, of course, accessible without any need to go through Facebook.
However, Russell Skelton, of ABC's (Australian Broadcasting Corporation) fact-checking project with RMIT University, points out that the ban affects precisely the audience that fact-checkers want to reach.
"Some 11 million-plus Australians use Facebook as their primary source of news," he says.
"Facebook's action has certainly prevented us from engaging with a more diverse audience who do not come to the ABC news website for their information."
Reporting by Jack Goodman, Shayan Sardarizadeh, Olga Robinson and Christopher Giles