Covid-19 leaflets: How pandemic disinformation went offline
By Jack Goodman
BBC Reality Check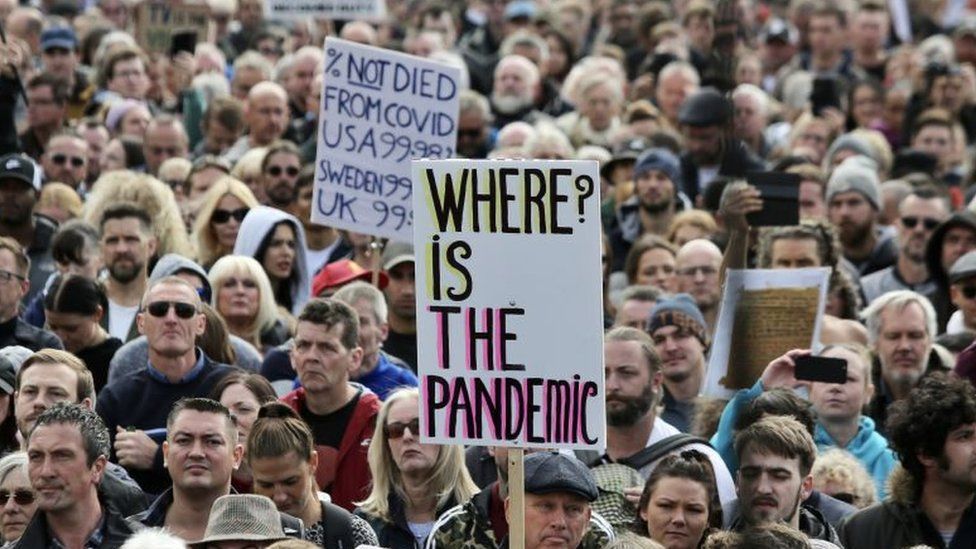 False and misleading information about the coronavirus pandemic has proliferated online over the past year, but it's also now become a familiar sight on doormats across the country.
Charles Crane was watching television one evening when a DVD in an unmarked plastic wallet landed in his hallway.
On the disc was a 45-minute video claiming to expose "the truth" about coronavirus vaccines.
Another discredited idea put forward in the video was that micro-particles within the vaccine are able to collect and transmit biometric data.
"I was appalled at the whole thing," says Mr Crane. "Many of my neighbours are in their 80s, and could easily be discouraged from taking the vaccine if they saw this off-the-wall material."
Mr Crane, who alerted BBC Look East about his unwanted delivery, is far from alone in receiving such material.
A return to the printed page
A newspaper dropped through Mark Langford's letterbox. It was called The Light.
"The first thing you saw was the main headline: 'Covid jabs kill and injure hundreds.' I was horrified."
Mr Langford confronted the woman who had delivered it. She told him she was a nurse, that the pandemic was a hoax and that no-one had died from coronavirus.
He said he didn't believe a nurse would say that but didn't challenge her credentials at the time.
The paper itself contained an article listing people who had allegedly died after receiving the vaccine, but provided no evidence that any of these deaths had been caused by the jab.
Another section of the paper claimed face masks were responsible for "thousands" of deaths from bacterial pneumonia. There is no evidence whatsoever for this claim.
The Light calls itself a "truthpaper" and is managed through a Facebook group with about 6,000 members.
Reports of it have appeared across the country, most recently being tucked under doors in Manchester.
We approached the paper for comment and received a reply with links to government reports on vaccine side-effects.
There is a fundamental difference however, between the reporting on side-effects in these government documents and the misleading, sensationalised claims of widespread deaths and injuries from the vaccine.
Another article published in The Light claimed face masks can damage the brain.
"My worry is there are other people who haven't been paying attention to the news and then this lands on the doorstep," says Mark Langford.
We've been alerted to many similar leaflets in recent months.
A flyer calling the pandemic an "illusion" has been spotted in both Leicester and Manchester, falsely claiming there were just 1,614 UK deaths from Covid up to October last year.
Covid is not a 'global scam'
Another leaflet doing the rounds warns of oxygen-reducing face masks, untested and unproven vaccines and says that we've all been hoodwinked during the pandemic, calling it a "global scam".
A copy of this flyer dropped through the door of former journalist John Andrews in Cambridge.
"I would find these claims of a worldwide conspiracy involving every health worker, immunologist, epidemiologist, virologist, and journalist funny if they weren't so widely believed, and so dangerous," he says.
It's not possible to say how many of these leaflets are being distributed around the country.
But the existence of an online site providing all the tools needed to put these leaflets together, and to spread these false and misleading stories, does suggest a fairly significant level of organisation.
On the site (which we've chosen not to name), there is a choice of leaflets to download as well as stickers for sale.
There's also advice on how to refuse a vaccine, ways to reject wearing a face mask at work and advice on avoiding coronavirus testing of your child at school.
Beyond Covid conspiracies
These examples are just the tip of the iceberg of leaflets being distributed.
Others cover the widest range of conspiracy theories from anti-Semitic tropes, to those of the QAnon movement with its promotion of the falsehoods that an elite group of Satan-worshipping paedophiles operates in government, business and the media.
Some leaflets simply present a QR code, which links to a website full of pandemic-related conspiracy theories, suggesting these flyers also serve as a way of drawing people into the mire of online disinformation.