Tigray conflict: The fake UN diplomat and other misleading stories
By Peter Mwai
BBC Reality Check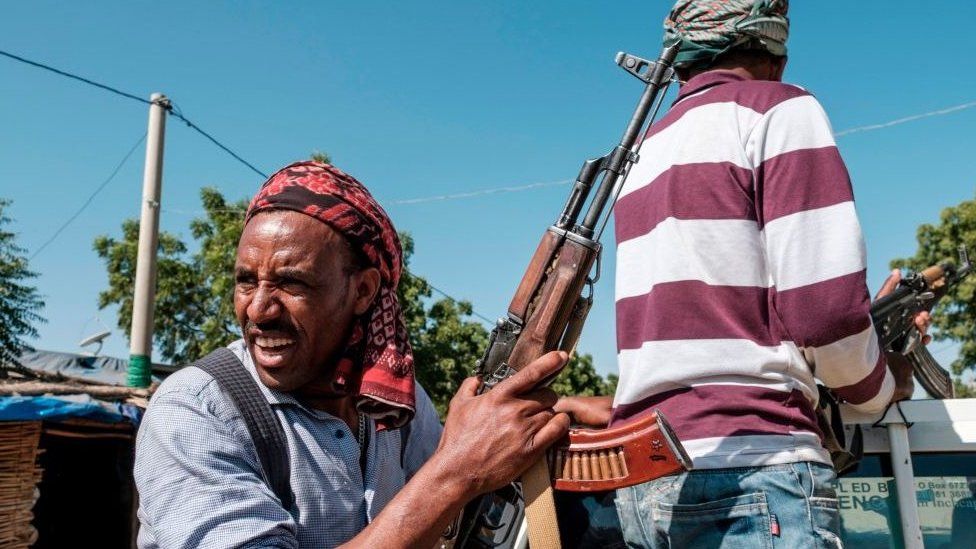 Tensions remain high in Ethiopia's northern Tigray region with continued allegations of human rights abuses and the risk of further instability.
The conflict erupted in November 2020 when Ethiopian government troops launched an offensive against local Tigrayan forces, who had taken control of government military bases.
With independent access to the region severely restricted, a propaganda war has been raging on social media with both sides engaged in spreading false and misleading information.
The 'UN diplomat' who can't be traced
The official Ethiopian Press Agency (EPA) has reported that a senior diplomat, formerly with the UN, has been tweeting in support of Ethiopia's cause.
The EPA's Facebook account reposted a tweet in the name of one George Bolton, with the handle @GboltonUN.
"Mr Bolton" - describing himself as a political analyst and former UN official - calls the Tigrayan leadership "brutal", notes that Ethiopia's leader won the Nobel Peace prize, and says the US should stay out of the conflict.
The same post appeared on the EPA's Amharic and Tigrinya Facebook pages.
But we've found no online profile for this individual and the UN has told us they have no record of a current or former employee with that name - in personnel records that go back at least a decade.
It was one of a number of examples the report highlighted as generated by a technology generative adversarial networks (GANs)
We also noticed that at one point all the posts under this Twitter account were removed, and that within the space of a week, the profile image then changed several times.
At one point, the account had as its profile image the current UN Secretary-General Antonio Guterres - but still with the Twitter handle @GboltonUN.
It then changed a few days later to someone else's picture, but with exactly the same Twitter handle.
A misleading image of a 'destroyed church'
The conflict in Tigray has resulted in the destruction of many buildings, including churches.
However, a picture widely circulating online of two women apparently praying beside a damaged building with the claim that it's a destroyed church in Tigray is misleading.
A reverse image search reveals this same photo appears in a Facebook post from July 2018, predating the current conflict, and on a travel website, which reveals the location to be the town of Adi Keih in Eritrea.
This is where a church was destroyed in a bombing raid by Ethiopian forces more than 20 years ago, in 1999.
These thirsty children are not in Tigray
A photo showing two boys drinking muddy water from a street puddle has been widely shared online with comments saying it reveals the desperate humanitarian situation in Tigray.
But the picture is not from Tigray at all - it was taken in the neighbouring Afar region in 2019.
She took the photograph in Bailuli District while investigating locations for solar water pumps.
A US 'investigation' that did not happen
In February, Amnesty International published a report on human rights abuses it said were committed by Ethiopian and Eritrean forces in an attack on the historic Tigrayan town of Axum in November 2020.
The allegations were rejected by the Ethiopian government, which described them as "fabricated."
Subsequently, a report by the pro-government Ethiopian Herald claimed that an investigation team from the US Agency for International Development (USAID) had visited Axum but "could neither find a single burial place nor meet with relatives" of people who reports say were killed in a massacre.
But USAID says it has never sent an investigation team to Axum.
"USAID has neither conducted an investigation nor sent a team to investigate the reported events that took place in Axum," it said in a statement released on Twitter.
An earlier version of this article wrongly attributed the origin of the photograph of the two children drinking. This has been corrected.