Covid: Why has Seychelles seen rising case numbers?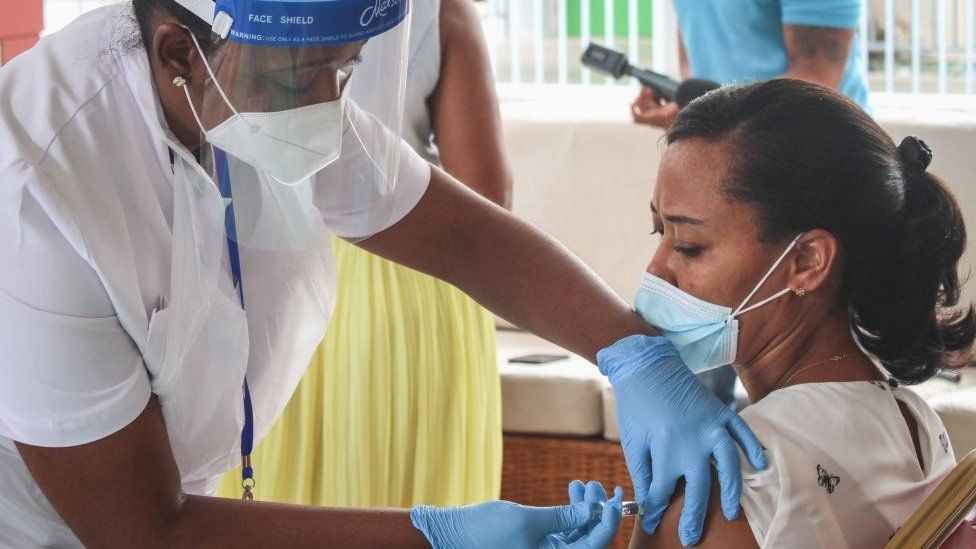 The Seychelles has vaccinated more people per head against Covid-19 than any other country, but has experienced a spike in cases.
More than 60% of the population has now been fully vaccinated in the chain of islands off the east coast of Africa,
What's happened to infections?
Seychelles is a small country, so the overall numbers of daily infections have not been high - but as a proportion of the population, the rise has caused serious concern.
During April, the average number of new infections remained stable, at around 50 a day.
By mid-May, this seven-day rolling average had risen to 400 new cases daily.
Since then the figure has fallen, but remains well above the average level for April.
The Seychelles Ministry of Health said on 10 May that about a third of the cases had been among those who are fully vaccinated.
Other countries where a significant proportion of the population is fully vaccinated, have reported much lower levels of new infections.
Which vaccines is Seychelles using?
Over 70% of the population has received at least one dose, and 63% have been fully vaccinated since the rollout began in January.
The first vaccine to be used was the Chinese-made Sinopharm, using doses donated by the United Arab Emirates.
The Oxford-AstraZeneca jab, produced in India and distributed under the name Covishield, has also been used, and most recently the Russian Sputnik V vaccine was rolled out.
Of the doses administered (not including Sputnik), 57% were Sinopharm and 43% Covishield.
We don't know how many out of those fully vaccinated people who tested positive for Covid had received Sinopharm, and how many had been given AstraZeneca.
We do know that about two-thirds of those who tested positive largely had mild or no symptoms, according to the country's health commissioner, Dr Jude Gedeon.
Of those who needed admission to hospital, 80% were people who hadn't been vaccinated, and a majority of these also had other health conditions.
How effective are the vaccines?
However, there's been generally less data worldwide on Chinese vaccines, and last month, the head of China's Centre for Disease Control and Prevention (CDC), George Gau, appeared to question its efficacy.
There are also questions about how effective the AstraZeneca vaccine is against the South African variant which is present in Seychelles.
The study didn't assess efficacy against severe Covid-19, but the WHO says indirect evidence shows it could be effective.
Similar concerns over another Chinese-produced vaccine have been expressed in Chile.
Critics also pointed to the government in Chile loosening restrictions too fast, and a widespread failure to follow public health guidelines.
Were restrictions lifted too fast?
Dr Gedeon, the Seychelles health commissioner, says he believes the rise in cases could be as a result of increased economic activity.
Restrictions were relaxed in March, including the reopening of restaurants and the resumption of school classes.
Officials have also suggested Easter celebrations may have contributed, along with people dropping their guard against the possibility of infection, having received one or more doses of the vaccine.
Restrictions were brought back in early May, with schools closed, bars, restaurants and shops told to close early and some gatherings banned.
Tourism may also pose a threat
The Indian Ocean islands that make up Seychelles rely heavily on tourism. In 2019, there were almost 400,000 foreign visitors.
Following a collapse in numbers during the pandemic, tourism is on the increase again.
On 25 March, Seychelles announced that visitors could enter without the need to quarantine, although a negative Covid test is still needed and entry restrictions apply for some countries.
More than 14,000 visitors arrived in April, far more than in March. But the government has rejected suggestions that this could have led to a rise in cases.
"There is also no evidence that tourists are bringing new infections into Seychelles," said Dr Gedeon.