India Covid: What are the claims around the 'free vaccine' policy?
By Shruti Menon
BBC Reality Check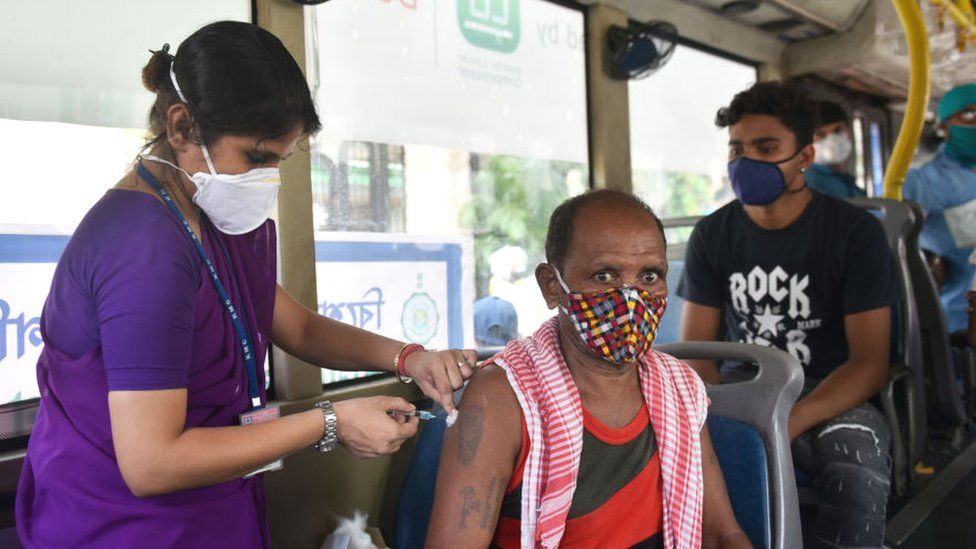 India has announced a record eight million jabs on the first day of a new vaccination push, the highest number it's done so far.
Under a newly-introduced policy, the federal government now buys Covid-19 jabs directly from manufacturers and supplies them to the state authorities.
India is one of the largest vaccine makers in the world.
But its own vaccination drive has been moving at a slow pace with just over 5% of the population fully vaccinated.
Is this a world record for one day?
On the first day of the new policy, Prime Minister Narendra Modi praised the pace of India's vaccine programme.
Mr Modi had announced earlier this month that everyone would get "free vaccines" from 21 June.
Today's record-breaking vaccination numbers are gladdening. The vaccine remains our strongest weapon to fight COVID-19. Congratulations to those who got vaccinated and kudos to all the front-line warriors working hard to ensure so many citizens got the vaccine.

Well done India!

— Narendra Modi (@narendramodi) June 21, 2021
Health Minister, Dr Harsh Vardhan, tweeted that the eight million jabs was the highest number of doses administered in a single day globally.
However, it was a single day record for India, leading some Bharatiya Janata Party (BJP) politicians to praise the move by the federal government to take over the vaccination drive.
Under the leadership of PM @NarendraModi ji, India clocked its highest ever vaccination numbers by administering over 85 lakh vaccine doses in a single day.

This has been driven by the efficient model of centralised vaccination along with ground level efforts by state Govts. pic.twitter.com/xNOWz8V1ha

— Piyush Goyal (@PiyushGoyal) June 22, 2021
The total number of vaccines administered rose by over 90% on 21 June, compared with the previous day.
But it is worth noting that vaccine doses administered in some states had dropped noticeably in the days leading up to 21 June.
In Madhya Pradesh, the numbers dropped significantly by 82% from 13-16 June and 17-20 June.
In Haryana, vaccine administration dropped by 22% between 15-17 June and 18-20 June before it achieved the highest single-day record.
Numbers dropped on the previous day in other states as well - something that is usually seen on Sundays.
And It was significantly lower than usual in Gujarat and Assam states.
India has administered over 276 million vaccine doses since January, that's less than 30% of the eligible adult population.
India's adult population is estimated as being around 950 million.
India's vaccine drive picked up pace in early April, with 3.66 million doses administered on 10 April, the highest figure achieved by that date.
But it fell by nearly half in mid-May and several states suspended vaccinations for the 18-44 age group due to shortages.
Experts say that India had failed to order enough vaccines last year to avoid shortages.
What has changed with vaccine policy?
The federal government now buys 75% of all vaccines manufactured.
And state governments get their vaccines doses for free from the federal government, rather than buying from the manufacturers.
However, it's worth noting that the remaining 25% of vaccines are still set aside for procurement by private hospitals as before.
These vaccinations are not free - and have to be paid for at private hospitals.
Prices have been fixed at 780 rupees ($10.7; £7.5) for Covishield, 1,145 rupees ($15.7; £11) for Sputnik V, and 1,410 rupees ($19.3; £13.6) for Covaxin.
Under the previous Covid vaccine policy, only half of all vaccines produced in India went to the federal government - 25% went to state administrations and 25% to private hospitals.
The states competed in the open market to buy vaccines doses for the general population in the 18-44 age group, which were then given out free at state vaccination centres.
Meanwhile, the federal government was responsible for vaccinating all frontline workers and those aged above 45 years - also for free.
The federal government will now allocate vaccines to the states based on their population sizes, the level of disease, vaccination progress and vaccine wastage.
The announcement happened just days after the previous policy attracted criticism from India's top court. It questioned the rationale behind it as it sometimes led to states paying more for vaccines than the federal government had to.
"This is a step in the right direction and will streamline some procurement-related challenges," says health policy expert Dr Chandrakant Lahariya.
But he adds that it doesn't change much for ordinary citizens as vaccines were already free of charge.
The new policy is in fact similar to what India did when it began its vaccine rollout in January this year.
This was even acknowledged by Mr Modi himself, who said "the old system, in place before 1 May, will be implemented again."
The idea is that with states no longer needing to buy vaccines directly, they will not end up competing against each for a limited supply (which disadvantaged those states with fewer financial resources.)