COP 26: How much are poor countries getting to fight climate change?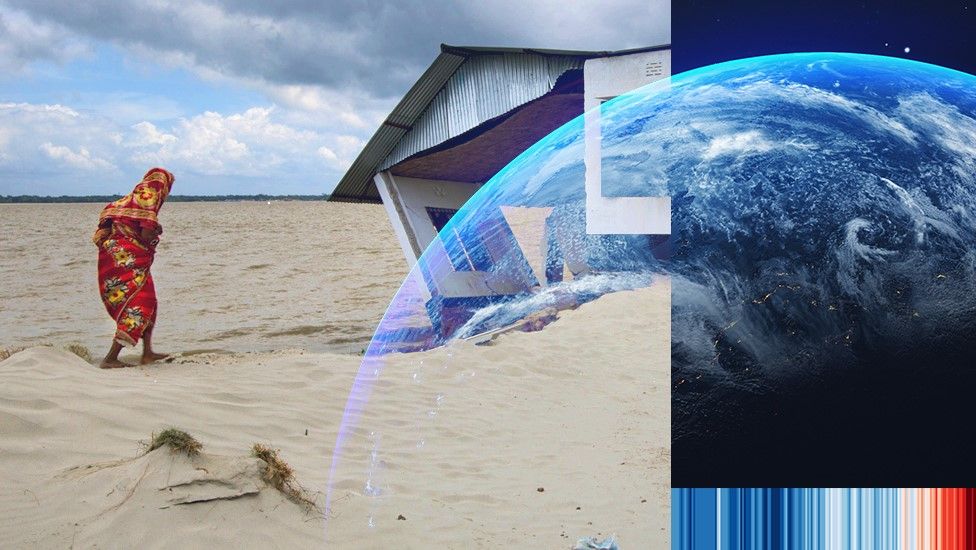 The amount of money rich countries give to the developing world to help it cope with climate change was one of the big battles of the COP26 climate summit.
A pledge to provide $100bn (£72bn) a year by 2020 has not been met, and poorer countries are demanding action.
It is going to be hard enough for rich countries to adjust to the need to remove fossil fuels and carbon from their economies.
But it is going to be far more challenging in developing nations, where there is much less money to pay for new infrastructure and technology.
And there are an awful lot of people under threat.
That's why developing countries are demanding grants, loans and private investment to support efforts to adapt to climate change and mitigate its effects.
Coastal defences to protect against flood surges and the creation of agricultural systems less vulnerable to drought are key areas where the developing world needs urgent financial help to adapt to changing conditions.
And for the poorest countries to be part of efforts to mitigate against the effects of climate change, support is needed for a switch to renewable energy sources such as solar, wind and hydro power.
How much was initially promised?
As long ago as 2009, the developed world agreed it would provide $100bn a year by 2020 to help poorer countries.
But an expert report commissioned by the United Nations (UN) concludes the target has not been reached - even though a new and more ambitious target is now due to be set for 2025.
"The $100bn commitment should be seen as a floor not a ceiling," lead author Amar Bhattacharya, from the Brookings Institution think tank in Washington, says.
"Some progress has been made - but a lot more needs to be done."
For many countries, this has been the biggest issue to resolve at COP26.
Climate finance is available to a wide range of countries. It includes the very poorest nations but also big economies like China and Brazil which are growing rapidly but are still far behind the rich world in terms of average income per person.
What new funding has been agreed at COP26?
In the weeks leading up to and during the first few days of the summit a number of countries announced new climate finance pledges.
The US has pledged $11.4 billion per year by 2024, as well as $3 billion specifically for climate adaptation
The UK says it will double its climate finance to $11.6 billion between 2020 and 2025
Canada has announced a doubling of its climate finance support to $5.3 billion between 2020 and 2025
Japan has offered $10 billion over the next five years for reducing emissions in Asia
Norway has committed to tripling its adaptation finance; Australia will double its contribution
Spain will increase its climate finance pledge by 50% to $1.55 billion a year from 2025
How far short are the pledges now?
It is quite hard to calculate what money should be included in the overall figure, because it is a complicated mix of funding from governments, international lenders and private companies.
But the existing pledges have been estimated to amount to $96bn a year by the end of 2022.
The UK government has said it is confident the $100bn target will be met in 2023.
The LDC group representing the least developed nations says this delay is unacceptable.
"Delivering US$100 billion by 2023 isn't soon enough", says the LDC's Gebru Jember, adding that "there is not enough for adapting to climate change, which was promised to be 50% of the US$100 billion."
There had been efforts at COP26 to address that by urging rich countries to at least double the amount of money they give for adaptation to climate change by 2025 (from 2019 levels). But that language was watered down in the final Glasgow Climate Pact to merely refer to an increase.
Proposals were also discussed at Glasgow for a longer term, more ambitious target for climate financing. Many developing countries want to see at least $1tn a year by 2030.
Finally, there are demands for a separate stream of finance dealing with loss and damage - effectively compensation for the harm done by all the greenhouse gases emitted by the industrialised world over the past 200 years.
But rich countries have already ruled out any language which suggests formal liability for damages which could run into trillions of dollars.
Who is still not paying enough?
"Within the G7 [group of rich nations], the three countries that have been the leaders are Germany, Japan and France in that order," Mr Bhattacharya says.
The recent additional pledges from the US and UK put them back among the leading group of contributors. But the US is still falling well short of what is considered to be its fair share given its size and resources.
Experts say rich countries which have been responsible for huge amounts of carbon emissions need to go further.
Dr Alina Averchenkova, from the Grantham Research Institute on Climate Change and the Environment, says: "$100bn isn't going to do it - we need to move trillions in both public and private money".
"The pandemic has shown us it can be done when there is the political will.
Are there any strings attached to the money?
Yes. By 2018, about three-quarters of the government money made available for climate action in developing countries was in the form of loans that need to be paid back, rather than grants that do not.
And that is a big problem in countries - many already heavily in debt - where Covid has made access to international funds even more pressing.
There has been an agreement at COP26 to give more money in the form of grants rather than loans, but the details of that commitment are limited.
"Developing countries cannot just rely on loans, so it is going to be really important that more climate finance is provided in grants," Dr Averchenkova says.
So it is the quality as well as the quantity of funding that matters.
And the message from the world's poorer countries is pretty simple - if you want ambitious climate targets, you are going to have to pay for them.