German elections: Businesses face future without Merkel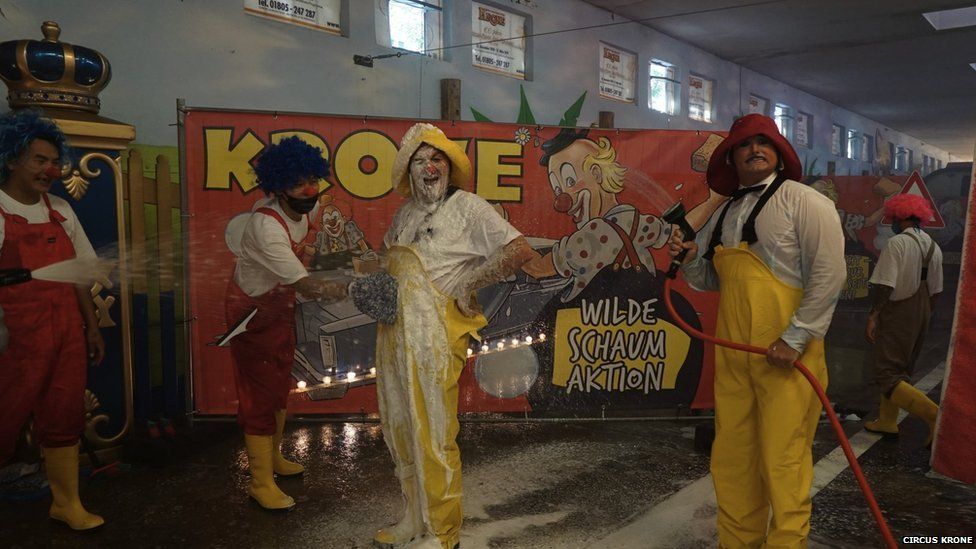 Europe's powerhouse stands on the brink of significant political upheaval.
After more than 15 years at the helm of Europe's largest economy, Chancellor Angela Merkel is stepping down.
Following elections this weekend, Germany will be looking at a new government, and a new leader as well - businesses large and small are wondering what that will mean for them after a very tough 18-months.
On an otherwise quiet side street in Munich, a line of cars is queuing up. As they wait, in front of a garage concealed by a heavy velvet curtain, the people inside are treated to a juggling display by a couple of exuberant clowns.
Every few minutes, the curtain lifts, and a car is ushered through. Inside, it's a maelstrom. A large group of clowns are busy throwing huge quantities of soap and water over each car as it comes in - and even more over each other.
There's a sound system belting out disco hits, it's noisy, hot and very, very wet.
Further on, the cars pass through a rather more sophisticated automatic washing and drying machine, before the occupants are entertained with another display - this time featuring strongmen, acrobats and even a fire-breather, as well as the inevitable clowns.
This extraordinary carwash is run by the Circus Krone, a business which has been a fixture in central Munich for more than a century.
The circus itself normally operates out of a permanent 3000 seat arena - but it has been unable to host any shows since March last year, due to the pandemic.
According to the Circus' director and lion tamer, Martin Lacey, the car wash has served a vital purpose during Covid, keeping his performers busy while bringing in a small amount of much-needed income.
Together with funding from the government's Kurzarbeit scheme, which subsidises wages when employees' hours are cut, it has helped the company avoid firing any of its 240-strong workforce.
But Mr Lacey is frustrated. He is unhappy that despite the company's best efforts to make the circus arena Covid-safe, it has been unable to open, while other parts of the economy are well on their way back to normal life. The new government, he says, will have to offer more consistent policies in the future.
"It costs a lot of money to run this business, and therefore we do need help in these situations", he points out.
"When they make a law they have to really think about the laws they're making. There's been a lot of backwards and forwards. So that's been very, very difficult".
A short distance across town, in the cellars beneath the ornate neo-Gothic New Town Hall, the Ratskeller restaurant is preparing a range of Bavarian delicacies for its evening customers.
"Schnitzel, schweinshaxe, sauerbraten…Many tourists come in here, and of course they eat Bavarian food", explains restaurant manager Peter Wieser.
Life has been difficult during the pandemic, but customer numbers are picking up, Mr Wieser says.
He wants the new government to ensure that consumer taxes, cut during the outbreak, stay low. He is also hoping it will become easier to recruit immigrant labour, to help solve a shortage of workers.
"We need employees", he says.
"In the past, we had immigrants here. We trained them, they paid taxes, they worked here. Then they had to go back to their country. This is not the right way - we need these people right now."
But on the prospect of life under a new Chancellor, he insists he's very relaxed.
"We had 15 years of Angela Merkel. I'm a fan of Angela Merkel, but now it's time to change, and we'll handle it somehow", he says with a grin.
Many small and medium sized businesses in Germany, as in other countries, are currently focused on short-term survival in the hope of medium-term revival. But larger companies are able to focus on the longer term.
At the IAA International mobility show in Munich, I meet with Wolf-Henning Scheider, the chief executive of ZF Group, a major supplier of high-tech systems for the world's carmakers.
As he prepares to welcome Mrs Merkel herself to his stand at the show, he tells me the new Chancellor will have to take her place as a leader on the European stage.
"We need a strong Europe, focusing on technology", he says.
"We see a North America, we see a China, focusing heavily on most advanced technology and education, and trying to take a lead. That is a competition where Europe has to play the game."
It's a theme which is echoed by plenty of other senior executives at the show - and indeed, across the business community.
With the fortunes of the main parties fluctuating throughout the election campaign, it is still by no means clear who will lead the next government, even if the Social Democrats of Vice Chancellor Olaf Scholz now seem to be in pole position.
But whoever inherits the keys to the Chancellery, it is clear Germany is facing a new era - and for the new leader there will be no shortage of tough economic challenges.