New Omicron variant: Are low vaccination rates in South Africa a factor?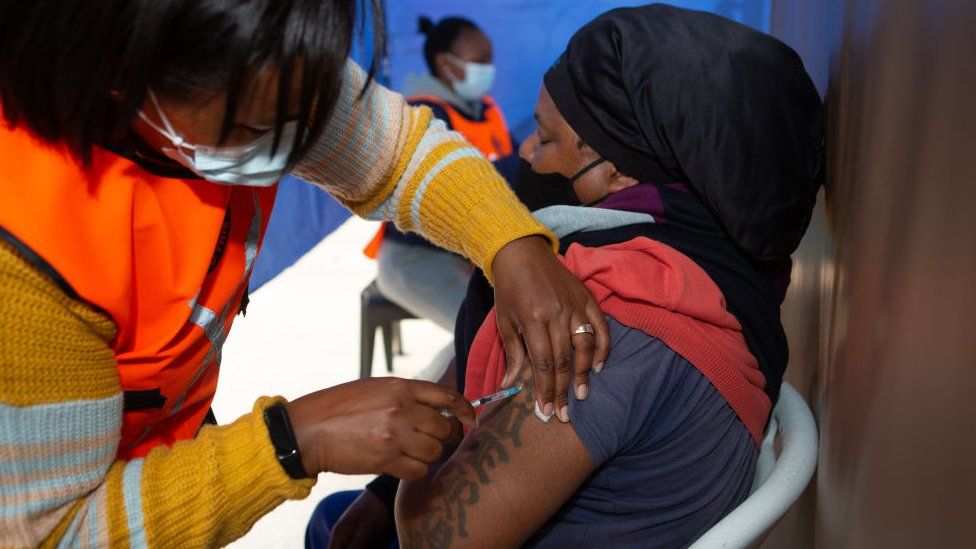 A sharp rise in Covid infection rates in parts of South Africa is being linked to the new Omicron variant.
The variant, first identified in South Africa, has led to new border restrictions being imposed around the world to prevent its spread.
Rates of vaccination are comparatively low in southern Africa, so could this be a factor in the appearance of a new variant of concern in the region?
How low is South Africa's vaccination rate?
The global average is more than 100 doses per 100 people, and many richer countries have far exceeded that.
But in South Africa, only 42 doses have been administered per 100 people.
Elsewhere in the region, the rates are even lower. Lesotho has given out fewer than 30 doses per 100 people, and Namibia just 25.
Could low vaccination be a factor in Omicron's appearance?
The variant was first identified in South Africa's Gauteng province, a region with among the three lowest vaccination rates in the country at just 32% of the adult population.
But making a link between the two is not straightforward.
The virus mutates as it jumps between people as well as when it replicates within an infected person.
In a population with a low vaccination rate, there will be more infected - and sicker - people around, creating more opportunities for the virus to mutate.
But potentially harmful mutations can take hold as the virus attempts to get round the immune defences of vaccinated or previously infected people.
So a population with some immunity, but not enough to stamp out the virus, and where the virus widely present, is a good environment for new mutations to develop.
Another factor is those who already have suppressed immune systems - as a consequence of the HIV virus for example - and who might have longer and more severe symptoms if infected with Covid.
This would give the coronavirus more opportunity to mutate within a sick individual.
Untreated HIV infection is a major problem in the southern African region where the Omicron variant was first identified.
Does the region have enough vaccine?
African countries have relied on a combination of bilateral deals, donations and the Covax vaccine-sharing scheme to get jabs rolled out.
Although the supply of doses to African countries has increased, the Global Vaccine Alliance (Gavi) says donations so far have been "ad hoc, provided with little notice and short shelf lives".
This makes it extremely challenging for countries to plan vaccination campaigns, Gavi said in a recent statement.
We have reported on several African countries having to throw away vaccine doses because they exceeded their expiry dates.
Data provided by the Airfinity research project suggests South Africa has had 32.5 million doses delivered, in a population of about 40 million adults.
Botswana has had about 2.4 million doses delivered for a population of 2.3 million, and Namibia about one million for 2.5 million people.
Is there an issue with vaccine hesitancy?
Uneven supply has clearly been a problem, but the fact South Africa has had to delay the delivery of doses suggests there is also something else going on.
South Africa's Health Minister Joe Phaahla suggests "fake news" is playing a role in making people - especially younger age groups - unsure about the vaccine.
There is a lot of fear - sometimes driven by misinformation or a lack of good information - about the safety of the vaccine.
Some of the claims circulating are outright false, but some are based on an element of truth - that you can still get Covid after being vaccinated, for example.
Research in partnership with South Africa's health department found this has led some people to believe vaccines don't work.
But that's not the case - you may still catch Covid, but for most people it will be far milder because the vaccine reduces symptoms, keeps people out of hospital and massively reduces deaths from the virus.
Reaching rural communities
Fear of side effects and safety were identified as two of the biggest reasons people weren't getting vaccinated. But the third was access, including the time it takes to travel to vaccination centres.
In the north-west of South Africa, many people in rural communities don't have easy access to vaccination sites, according to the report produced for the health department.
There have also been issues with supply in certain areas, with sites running out of doses before they've vaccinated everyone who's turned up to be jabbed while others can't afford the transport or time off work.
Sarah Downs, a researcher in vaccines and infectious diseases at Wits University in Johannesburg, said there was "a lot more hesitancy than anti-vax rhetoric" in South Africa.