Ukraine conflict: Further false images shared online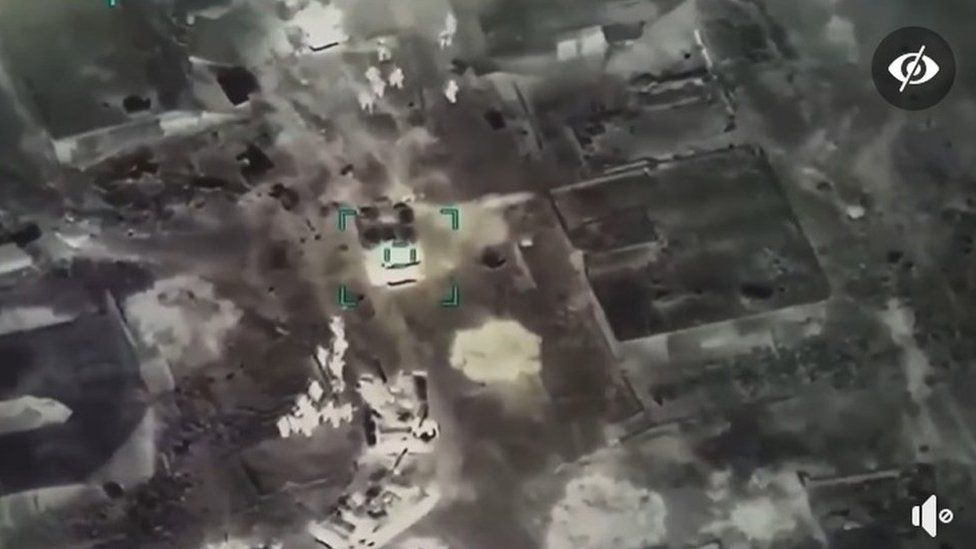 The second day of the Russian invasion of Ukraine has been accompanied by further false or misleading imagery on social media claiming to be from the conflict.
Some show military action taken from older conflicts, while other viral videos have proved difficult to verify.
One video clip seen by the BBC and proven to be several years old has been viewed more than 27 million times in one day, while another showed video game footage.
Misleading posts have come from "official" sources as well as from "ordinary" social media users.
One example was a tweet posted by the verified account of the Ukrainian Ministry of Defence.
Footage of an aerial dogfight is accompanied by the caption "MiG-29 of the Air Force of the Armed Forces destroys the 'unparalleled' Su-35 of the Russian occupiers".
One clip of old and incorrectly labelled footage has been viewed over 18 million times on video-sharing platform TikTok.
It claims to show Ukrainian troops "facing off" with Russian soldiers at an airbase.
While it does show a confrontation between Ukrainian and Russian forces, fact-checkers Logically have ascertained that the footage was shot in 2014 during the annexation of Crimea, and was shot at the Belbek airbase near Sevastopol.
One video, which was posted on both Facebook and Twitter from an unofficial account supporting Ukraine's armed forces, claims to show the destruction of Russian personnel and equipment in Ukraine, as seen through a drone aircraft's gunsight.
However, it's footage from Syria shot in 2020. The new version sees the image flipped, perhaps in an attempt to prevent verification through reverse-image search tools. The Twitter post was subsequently deleted.
Another incorrectly labelled clip on Twitter claims to be of a Russian airstrike on Ukraine "that caused a chain reaction at the Luhansk power plant".
Various uploads of the clip have been viewed hundreds of thousands of times.
The video actually shows footage of the 12 August 2015 Tianjin blasts in China, which killed around 173 people when a container containing chemicals exploded at a port. A BBC report on the Chinese incident can be viewed here.
One TikTok video has been viewed 27.5m times and shared by thousands of users who assumed that it was from Ukraine.
The clip shows some men in military fatigues shouting and laughing in Russian as they parachute over farmland.
Although the caption just says "Original sound - Roman", users have assumed that the video is of Russian troops taking part in the invasion.
In fact, it's footage shot by a man who appears to be a member of the Russian armed forces, and uploaded to his Instagram channel in 2015.
He uploaded the old footage to his TikTok channel on 24 February, the day of the Russian invasion of the Ukraine, leading to viewers thinking it was footage from the conflict.
More old footage on Twitter includes video of a rocket barrage, implying it is part of the Ukraine war.
In fact it's from 2018, and shows a barrage launched from Multiple Launch Rocket Systems (MLRS). A tweet from 2018 shows the same footage, although there is some doubt about the accuracy of the caption.
In some cases it has been impossible to verify the truth behind a viral post.
One example is that of a video clip of a missile being fired toward a residential area in Kyiv by a low-flying jet.
The footage has been viewed more than two million times on Twitter. However, the aircraft is travelling too fast and the video is of too poor a quality to verify which country's air force the plane belongs to.
There is also debate as to whether the residential area was deliberately targeted, or if the missile was fired in error.
There have also been conflicting claims over the identity and intention of the aircraft.
Fast-moving events such as war mean that misleading imagery will inevitably appear on social media.
Misinformation is easily shared, often by those who believe the images to be genuine.
Social media users can limit the spread of bad information by taking a few seconds before sharing, to consider whether what they're seeing seems genuine and is from a source that they trust.
Checking with multiple trusted sources can help to prevent these images from being widely shared.