Ukraine invasion: Misleading claims continue to go viral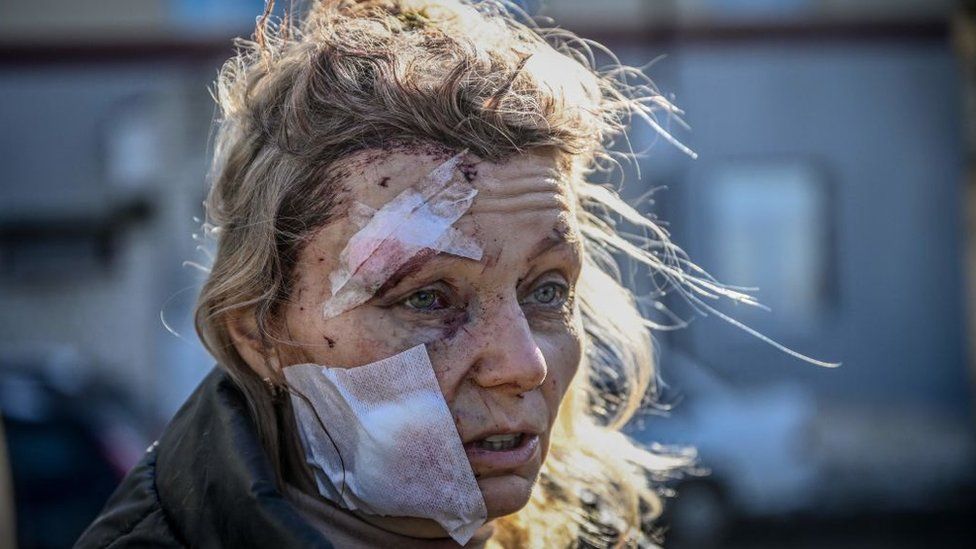 Five days into the Russian invasion of Ukraine, false or misleading videos and images about the invasion continue to go viral.
Among the things spreading quickly are old videos being depicted as current - along with claims that pictures such as the one above are old, even when they verifiably come from the present conflict.
We've been looking into some of the most viral claims.
False 'crisis actor' claims
Claims have circulated online that images and clips from the destruction of a residential building in Chuhuiv, in eastern Ukraine, on Thursday are instead from a 2018 gas explosion in the Russian city of Magnitogorsk. Some also claimed that an image showing a bloodied woman at the scene was from 2018 or that she was a "crisis actor" - someone hired to act out scenes from an attack.
These claims - made by a variety of pro-Russia and conspiracy-themed accounts - are false.
Although at first glance they may bear a superficial resemblance, images from the gas explosion in Magnitogorsk in 2018 do not correspond with images from Thursday's fire in Kharkiv.
Early on Thursday, the State Emergency Service of Ukraine posted on Facebook saying they had been informed of "enemy fire" resulting in the death of one child and several other injuries. A journalist at the scene posted a video showing the aftermath of the fire, and other sources including photographers at the scene posted images from the same event onto social media.
Two photographers took images of the woman, and some of these photos appeared on websites and newspaper front pages all around the world over the weekend. Both photographers confirmed that the images were taken on 24 February - a fact further confirmed by metadata from the images which shows the same creation date.
Young girl confronting soldier is not Ukrainian
However, other photos and videos posted in recent days don't show what some people say they are depicting.
A blurry video claiming to show a Ukrainian girl confronting a Russian soldier has generated 12 million views on TikTok and nearly one million views on Twitter.
But it actually shows Palestinian girl Ahed Tamimi, aged 11 at the time, confronting an Israeli soldier after her older brother was arrested in 2012.
Twitter has labelled the video "out of context", but it continues to rack up views on TikTok.
Molotov cocktail fight in Kyiv
Different versions of a video claiming to show Kyiv residents fighting Russian motorised infantry with Molotov cocktails went viral on multiple platforms over the weekend.
It led many users to believe it showed clashes between Ukrainian citizens and Russian forces, and was shared by two British MPs.
Video game clip goes viral
The clip shows a jet on fire followed by the sound of a huge blast - and was viewed nearly a million times.
However, it is not real. It is a clip from the video game Arma 3 and unrelated to the war in Ukraine.
Did Ukrainian kids see off troops?
An image showing two children seeing off a convoy of Ukrainian forces into battle has generated millions of engagements - likes and shares.
It was tweeted by US Congressman Adam Kinzinger and former Swedish Prime Minister Carl Bildt, among others.
But the image was old - it was first published in 2016.
It was taken by a volunteer photographer for the Ukrainian defence ministry who was later dismissed over allegations that he had staged some of his combat images.
Kyiv mayor on the front line
An image of Kyiv Mayor Vitali Klitschko has gone viral on Instagram claiming to show him on the front line.
Did Zelensky drink tea with Ukrainian forces?
A video claiming to show Ukrainian President Volodymyr Zelensky in military fatigues giving a morale boost to Ukrainian forces by drinking tea with them on the battlefield racked up nearly 3 million views over the weekend.
Meanwhile, a Telegram account in Mr Zelensky's name drew attention over the weekend, posting messages that urged Ukrainian forces to drop their weapons and surrender. But it was fake.