Ukraine war: False TikTok videos draw millions of views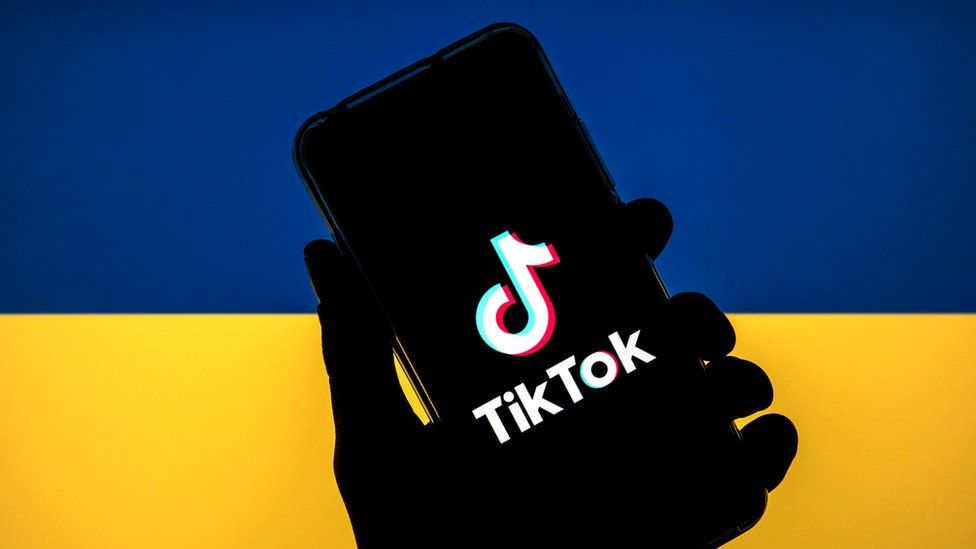 TikTok has emerged as one of the leading platforms for snappy false videos about the war in Ukraine which are reaching millions.
With a user base of more than one billion people - more than half of whom are under 30 - TikTok is where many young people have been getting updates about the conflict, as the platform struggles to stem the flow of misleading information.
And you don't need to look that hard to find dubious content. According to an investigation by NewsGuard, a website that monitors online misinformation, new users could be recommended false content about Ukraine within 40 minutes of joining the network.
While platforms such as Facebook, Instagram and Twitter have been labelling false or misleading viral videos about the war, TikTok seems to be playing catch-up.
The company insists it has stepped up its efforts to combat misinformation.
Here are some of the most common categories of misleading content the BBC has identified on the platform.
From the early days of the war, fake livestreams have drawn some of the highest numbers of views on TikTok.
The recipe is simple: a user finds a dramatic video of an old conflict or some military drill, dubs fake audio of a huge explosion or an intense shootout, starts a livestream, and once a sizeable audience tunes in, asks for donations to their channel.
One such account had drawn nearly 30 million views by mid-March. All but three of the account's livestreams up to that point were short clips taken from a YouTube video of old Ukrainian military training, dating from 2017.
Users can react to livestreams by sending the accounts points that can be converted into cash.
"It seems like a lot of the looped scary livestreams were likely created with the hopes of earning money via TikTok's gifting system," says Abbie Richards, an independent researcher who creates videos with a focus on the dangers of misinformation.
Most of the fake livestreams can be easily found under popular hashtags such as #Ukraine or #UkraineWar.
"The content is intended to blend in with all the other information available on the topic," says Ms Richards.
Dramatic footage of military video games or computer-generated imagery (CGI) has been regularly used as a substitute for real war videos.
Scenes from video games such as Arma 3 and Call of Duty have flooded TikTok. Fake aerial battles, including footage appearing to show fighter jets being shot down, have proved particularly popular.
Some accounts try to make the action more realistic and use clips from war films, TV series or real-life games.
One video, which was viewed 24 million times, shows a man appearing to drop an explosive item on a tank. It was taken from a video of an Airsoft match - a team combat game similar to paintball - and uploaded to YouTube in January.
A separate fake livestream, viewed by 2.3 million users, is made up of CGI footage of missile strikes and has been circulating on the internet since last year.
Ms Richards says she has seen instances of users warning in the comments section of such videos that they are taken from video games or are made up. But the people behind the accounts can disable comments - and the warnings disappear.
Videos of old conflicts are typically used when a new one is under way. The BBC has seen videos from wars in Libya, Syria and Chechnya being used as though they show the current conflict.
A video purporting to show intense fighting between Russian and Ukrainian forces outside a block of flats has racked up 7.7 million views.
But the footage was in fact recorded in 2014 in the Chechen capital, Grozny, during a deadly attack by an armed jihadist group. Fake breaking news and live captions were overlaid on the original footage to hide the real source.
Some have posted videos from the conflict between Russia and Ukraine in 2014, which could easily be mistaken for the current one, or footage of military exercises or parades in either country.
A video of a column of Ukrainian tanks in central Kyiv was presented as if they were on their way to defend the capital against a Russian offensive. It received nine million views. But it was filmed during an independence-day military parade several years ago.
And a video of a tank with a Ukrainian flag, speeding down a residential street - viewed four million times - also dated back to the Russia-Ukraine conflict of 2014.
Ms Richards says TikTok could address the problem of viral old videos by taking simple measures, such as making the date a video was posted clearer.
War in Ukraine: More coverage
Like Facebook and Instagram parent Meta, TikTok collaborates with independent fact-checkers, albeit on a smaller scale. But while Facebook and Instagram have been labelling false and misleading content about Ukraine on their platforms, such labels are rare on TikTok.
What that means for independent fact-checkers is a time-consuming process of manually researching a huge volume of content on a regular basis.
Another issue, according to Ms Richards, is the absence of a community of TikTok users willing to debunk falsehoods on the platform.
"When TikTok fails to ensure the accuracy of information receiving millions of views on its platform, that burden is falling on outside researchers and everyday TikTok users."
A TikTok spokesperson told the BBC: "We continue to respond to the devastating war in Ukraine with increased safety and security resources to detect emerging threats and remove harmful misinformation.
"To support our efforts to help keep TikTok a safe and authentic place, we've added more resources to our moderation and fact-checking for content in Russian and Ukrainian, including local language experts and partnerships with independent fact-checking organisations."
Have you been affected by what is happening in Ukraine? Or do you have any questions about the conflict? Email us at: haveyoursay@bbc.co.uk.
Please include a contact number if you are willing to speak to a BBC journalist. You can also get in touch in the following ways:
If you are reading this page and can't see the form you will need to visit the mobile version of the BBC website to submit your question or comment or you can email us at HaveYourSay@bbc.co.uk. Please include your name, age and location with any submission.