Ukraine conflict: Russian chemical attack claim fact-checked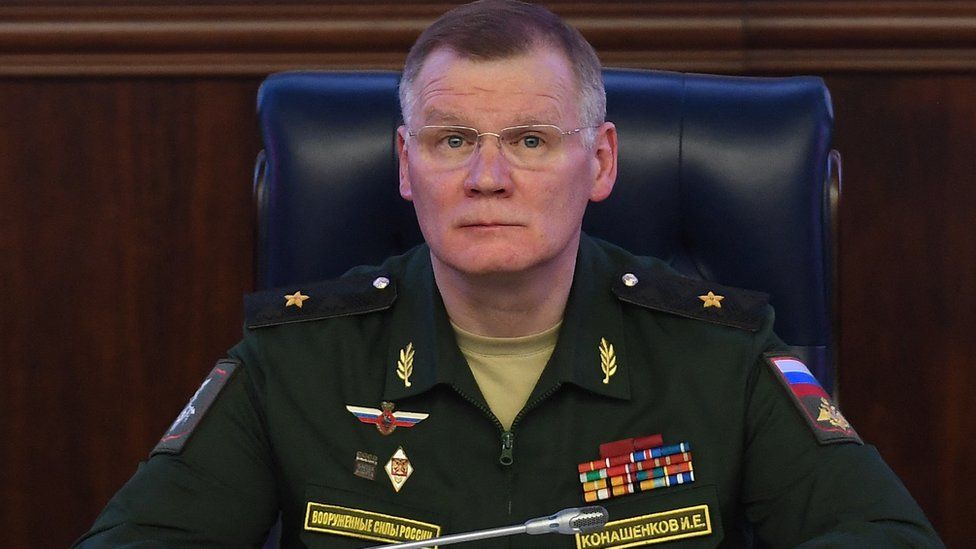 Russia is using a familiar tactic to blame an adversary for attacks it has not carried out - on this occasion accusing Ukrainian forces of blowing up a fertiliser storage facility.
The purpose of the attack, says Russia's defence ministry, was so that the Ukrainians could then accuse Russian forces of having launched a chemical weapons attack.
Russia also claims that the Ukrainian security forces have attempted to set up a second "false flag" event, by appealing for bodies to be used to "simulate a Russian air attack".
There's no evidence that either of these claims is true.
Moscow has a history of falsely accusing its opponents of staging "provocations" which either never happened at all, or were subsequently carried out by themselves or their allies.
A Russian Ministry of Defence briefing on 11 May asserted that Ukrainian forces had "carried out an explosion of a tanker with fertiliser, presumably ammonium nitrate, which resulted in a cloud of orange smoke that dissipated after some time".
According to Moscow, the aim of the explosion, which occurred in the Kharkiv region, was to accuse Russia of using chemical weapons in order to "extract additional military aid from the West by the Kyiv regime".
No evidence was given in support of the claim that Ukrainian forces were responsible for the explosion.
What we know about the incident
The location in a video showing the plumes of orange smoke rising into the sky was identified using satellite imagery as Dolgenkoye, an agricultural region near the city of Kharkiv.
Following the explosion, Oleksiy Arestovych, an adviser to the head of the Ukrainian president's office, said he did not believe it was a Russian chemical weapon attack, although he did add the qualification that he would have to "clarify such preliminary data".
The BBC was unable to find evidence of Ukrainian officials subsequently accusing Russia of using chemical weapons in this incident.
Video and satellite imagery showing the farm buildings hit are consistent with an explosion where facilities containing ammonium nitrate have been set on fire - releasing a characteristic orange-coloured cloud, says Wim Zwijnenburg, an arms researcher at Pax, a Dutch humanitarian organisation.
Mr Zwijnenburg says up to 40 similar agricultural facilities have been destroyed in Ukraine since the start of the Russian invasion in February.
In recent weeks, Dolgenkoye has been the target of shelling from Russian forces, with satellite imagery showing various fields in the area scarred by shelling.
Other recent Russian 'false flag' claims
Operation Z, a pro-Russian social-media channel with almost 800,000 subscribers recently claimed doctors in Ukraine had been instructed to take the bodies of women and children to a hospital, from where they would be transported to "one of the social facilities in the city where an air raid allegedly by Russian aviation will be simulated".
The Telegram post on 12 May said: "Ukrainian special services are preparing a provocation in the Dnieper (Dnipro) region to accuse the Russian military of killing civilians."
There is no evidence for this narrative, which follows other similar claims by pro-Russian media.
In early April, the Russian ministry of defence said UK intelligence operatives were putting civilian bodies in basements in the Sumy region, who could then be portrayed in the West as victims of a "Russian massacre".
Again, there's no evidence that this happened.
Russia has a history of accusing its enemies of staging what it calls "provocations", by which it means attacks that can be blamed on Russia.
In some cases the claims are to cover for attacks committed by Russia or its proxies; in others the claims refer to future events that might not happen at all.
During the Syrian conflict, Moscow repeatedly accused the White Helmet civil defence group, the UK, the US, France and Belgium of preparing chemical attacks that they could then blame on Russia and Syria.
However, inquiries into chemical attacks during the war have concluded that the Syrian government was responsible for the attacks on Douma and Ghouta.
Prior to the invasion of Ukraine, the BBC reported on a number of false-flag events, including claims that a burned-out and bullet-ridden car was "evidence" of Ukrainian attacks on citizens.
However, closer inspection of the Russian separatists' own photos of the incident revealed that the bodies inside had surgical incisions consistent with being recently cut open for post-mortem examination, and were already dead at the time of the alleged attack.