Kosovo: Why is violence flaring again?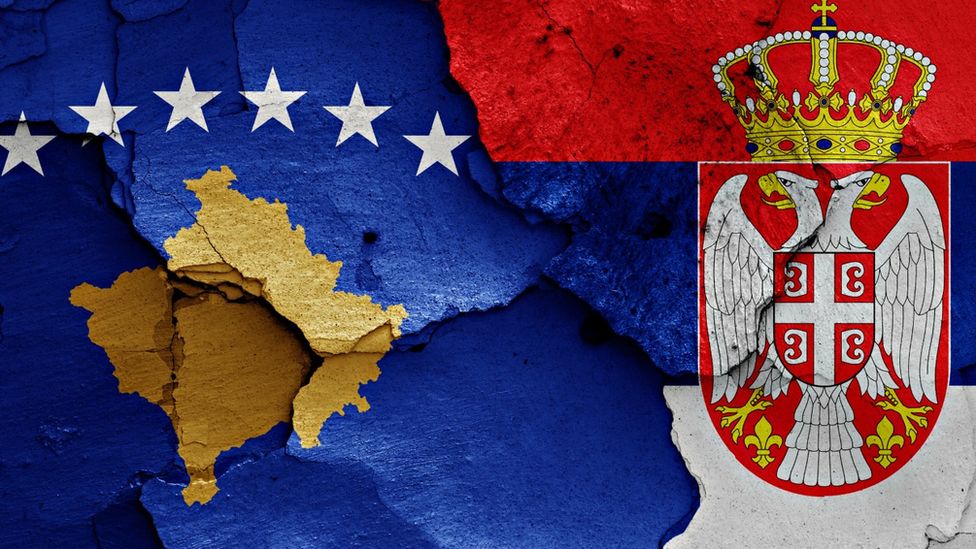 Violent clashes have taken place in Kosovo between ethnic Serbs and police belonging to the Albanian-led government.
Nato is deploying an extra 700 troops to the country after more than 30 of its peacekeepers were injured.
The clashes followed a disputed local election and there are fears the violence could escalate.
Where is Kosovo and who lives there?
Kosovo is a small, landlocked country in the Balkans in southern-eastern Europe. It borders Albania, North Macedonia, Montenegro and Serbia.
Many Serbs consider it the birthplace of their nation.
How did Kosovo gain independence?
After the break-up of Yugoslavia in the 1990s, Kosovo - a province of the former country - sought its own autonomy and independence.
Serbia responded with a brutal crackdown against ethnic Albanians seeking independence.
This ended in 1999 with a Nato bombing campaign against Serbia, between March and June.
Serbian forces withdrew from Kosovo - but for many Kosovo Albanians and Serbs, the conflict has never been resolved.
In 2008, Kosovo unilaterally declared independence.
But Russia and China, which do not, have blocked Kosovo's membership of the UN.
And Serbian President Aleksandar Vucic has vowed Serbia would never recognise Kosovo as an independent country.
Neither Kosovo nor Serbia are in the EU - but:
Serbia has been an EU candidate country since 2012
Kosovo formally applied to join the EU in December 2022
The process of becoming an EU member can take years or even decades.
Why has trouble flared up now?
At the heart of the latest clashes are disputed local elections in the north of the country, boycotted by a majority Serb population that lives there.
Four ethnic Albanian mayors were elected on a turnout of less than 4%. They were escorted to their offices by armed Kosovo police, provoking violent clashes with local Serbs.
Nato is sending another 700 troops to the country, after some its peacekeeping soldiers were injured in the clashes.
Are Serbia and Russia involved in the violence?
Russian Foreign Minister Sergei Lavrov said the tensions were alarming and may lead to a "huge explosion" in the heart of Europe.
Kosovo president Vjosa Osmani claimed in February mercenaries from Russia's Wagner Group were working with Serbian paramilitaries to smuggle weapons and unmarked military uniforms into Kosovo, in preparation for a possible annexation of Kosovan territory.
There is no evidence to substantiate the claims.
Serbian President Aleksandar Vucic placed the country's army on full combat alert and ordered its units to move closer to the border with Kosovo. But he also told the Serb media that he was looking for a political solution to the tensions.