New flood warning services in Devon towns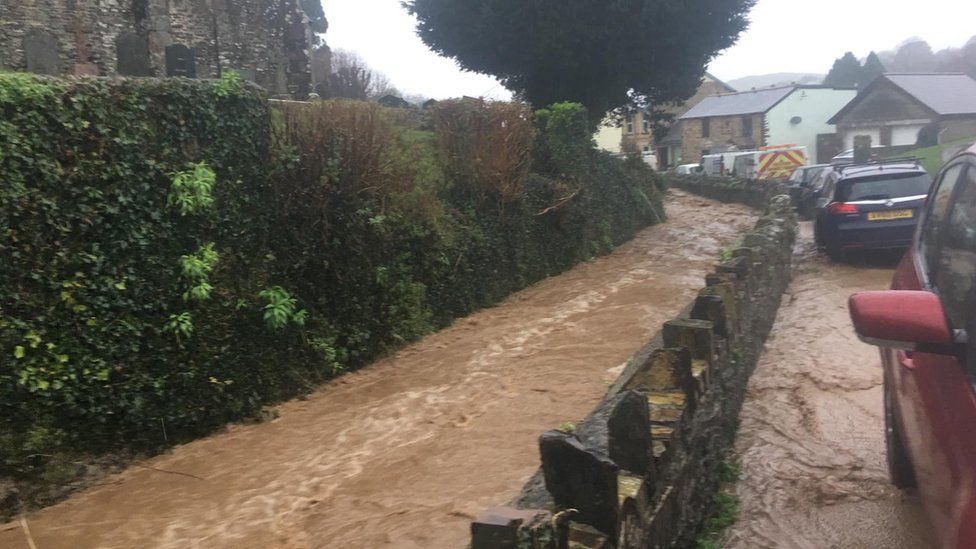 Hundreds of homes and businesses in Devon are getting new flood warning services to tell people about any imminent risk, the Environment Agency has said.
The agency said more than 400 properties would be auto-registered to receive warnings for the Dawlish Water in Dawlish and more than 250 properties for the River Umber in Combe Martin.  
Managers said the scheme was being introduced after "numerous flood events over the years" in Dawlish, particularly in 2012. Combe Martin also suffered flooding in 1958, 1960, 2016 and in 2018 as well as landslides.
The agency said the climate emergency meant it could not "prevent all flooding", but it was "working to make communities resilient to future flooding".
'Make communities resilient'
It said three types of warning would be issued: flood alert, flood warning and severe flood warning.
Each warning would be triggered by particular weather, river or sea conditions which cause flooding.
The Environment Agency set out the levels of alert:
Flood alert - people had to be prepared to pack a bag that includes "medicines, insurance documents and anything else they wouldn't want to lose if flooding were to take place"

Flood warning - called on people to "act now, which means turning off gas, water and electricity and moving family and pets to safety"

Severe flood people were "in immediate danger and to follow advice from emergency services"
Ben Johnstone, from the agency, said: "We know the devastating impact that flooding can have, which is why protecting people and communities is our top priority.
"However, the climate emergency means we cannot prevent all flooding – so we're working to make communities resilient to future flooding.
"We want to ensure that everyone has as much time as possible to prepare for flooding."
The agency said people could register their preferred contact details on its website, external.