Cattle shepherded by GPS in flagship biodiversity scheme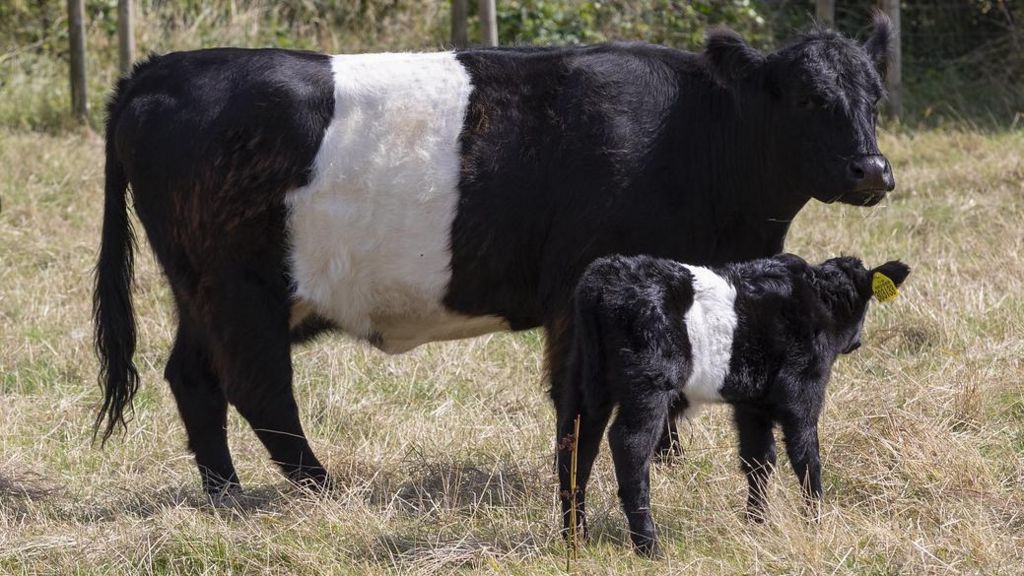 At a glance
A 100-year "experiment" has started at the Threave Estate in Dumfries and Galloway

Cattle will be tracked and learn grazing boundaries as part of plans to boost flora and fauna

It is hoped that the findings from the biodiversity scheme will be shared worldwide
A herd of distinctive Belted Galloway cattle is to be fitted with GPS as part of a flagship biodiversity scheme in southern Scotland.
It will be used to track the cattle as they graze on the Threave Estate and explore how livestock management can be balanced with nature recovery.
It is part of a 100-year "experiment" aimed at increasing biodiversity in the area.
The project has just secured "significant" support in the shape of a six-figure donation from banking giant HSBC.
Plans for the 81 hectares (200 acres) of land run by the National Trust for Scotland at Kelton Mains were revealed earlier this year.
They aim to transform it into a "rich habitat" for flora and fauna.
Thousands of redundant fence posts are being removed and new boardwalk will be laid to allow people to explore the wetlands in a "whole new way".
In addition, the trial project will take place with Belted Galloway to study the role livestock can play in assisting biodiversity.
They are fitted with GPS collars which can track where they go and also control the areas they graze in.
When the cattle reach a boundary, a sound is emitted so they can learn that is as far as they can go.
This should allow for the removal of the old fencing on the site.
The livestock will also be able to graze over more difficult areas of ground like woodland where their trampling can help with self-seeding.
NTS chief executive Philip Long said its work to protect Scotland's "special places" had "never been more urgent".
"Throughout 2021, we've all seen the impact of the climate crisis whether that's through record temperatures or rainfall," he said.
"This puts into sharp relief the need for action.
"We all have a responsibility to work together to care for the places, the habitats and the habits that can help ensure our heritage survives for future generations."
HSBC chief executive Ian Stuart said it was "very excited" to be involved with the scheme.
Sam Gallacher, NTS operations manager at Threave, said the entire project was aimed at encouraging carbon capture.
He said the trust hoped to share the findings of the "experiment" worldwide.