Wooden house in 'good hands' as trust takes over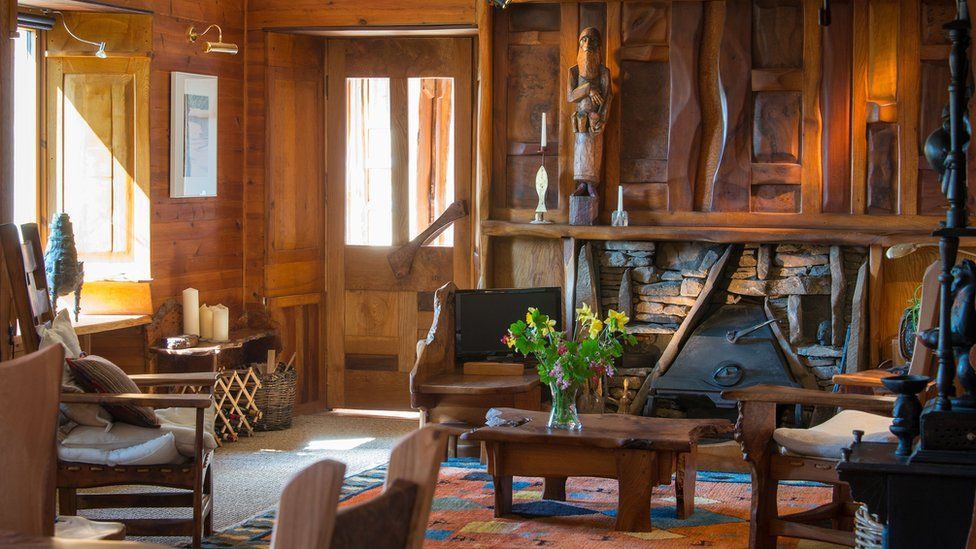 At a glance
The purchase of a unique property in the Scottish Borders has been completed after a lengthy fundraising battle

Artist Tim Stead created all the furniture and fittings out of local wood

Plans are now in place to turn the building into a "creative hub"
The keys to a house with a unique wooden interior have been handed over to a trust by the widow of the man who created it.
The Tim Stead Trust (TST) raised £500,000 to buy The Steading near Lauder in the Borders from Maggy Stead.
Nichola Fletcher, who chairs the group, said it was the realisation of a dream going back several years.
Ms Stead said she knew the building was in "good hands" and would follow closely how plans for its redevelopment progressed.
Artist and designer Tim Stead was renowned for his work with wood. His public commissions included furniture for the Glasgow restaurant Cafe Gandolfi and the Papal Throne for the visit of Pope John Paul II to Edinburgh in 1982.
The Steading became his family home in 1980 and he refurbished the interior and created all the furniture and fittings out of local wood before his death in 2000.
The TST was formed in 2015 to safeguard the property and its contents, and has now completed the purchase of the building thanks to a number of "generous donations".
They hope to turn the building into a "creative hub" which will be true to Mr Stead's vision that "everyone should be able to spend more time with trees".
The fundraising process for converting the property to achieve that goal is still ongoing.
Ms Fletcher said she had "dreamt so long" of being able to carry on Ms Stead's efforts in promoting her late husband's work and "everything he stood for".
"At times we have despaired, but we got here in the end," she said.
"We're going to need a lot more funding to carry out our future plans, but we are excited to have some brilliant organisations who want to come with us on our creative and environmental journey."
Ms Stead said that the handover was a little more low-key than she had imagined due to Covid.
"As it is, because of the virus, it feels a bit like leaving by the back door," she said.
"But I know that the Steading, with its collection and archive, is in good hands.
"And I look forward to the developments that are going to take place here at The Steading, to allow it to continue to be a place of inspiration and fun."