Jojo Siwa to make Dancing With the Stars history in same-sex pair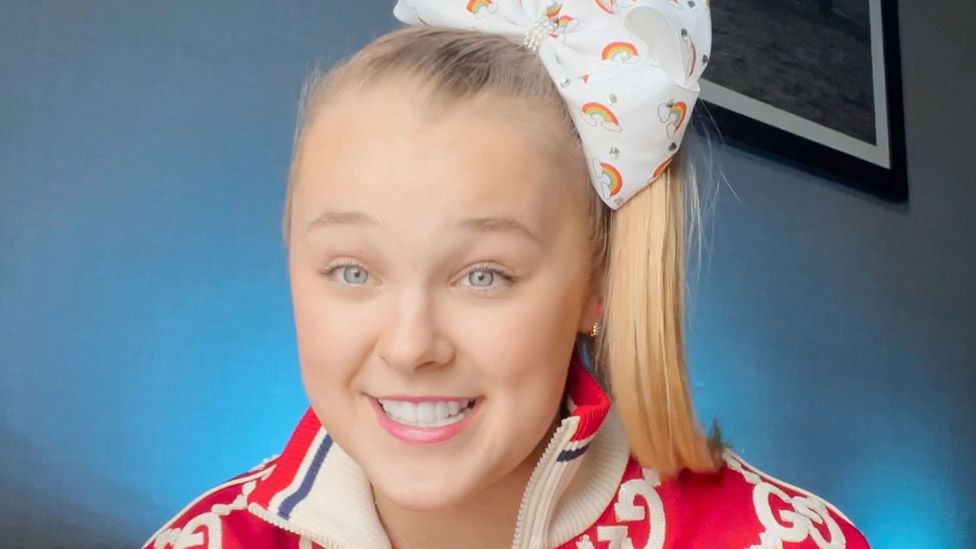 Social media star and hair accessory trendsetter Jojo Siwa is to be part of the first same-sex couple on Dancing With the Stars, the US version of Strictly Come Dancing.
The 18-year-old, who came out earlier this year, said it "breaks a wall that's never been done before".
"I think it's really special that I get to share with the world that you can love who you love, but now you can dance with who you want to dance with."
Producers gave Siwa the option of whether to dance with a man or a woman. "I said I actually would love and prefer to dance with a girl," she said.
She told USA Today, external: "I have a girlfriend who is the love of my life and who is everything to me. My journey of coming out and having a girlfriend has inspired so many people around the world.
"I thought that if I chose to dance with a girl on this show, it would break the stereotypical thing. It would be new, different and change for the better."
The star, who rose to fame on the show Dance Moms, said she expects criticism for her decision.
"There's going to be people who don't like it, who think dancing on the show with another girl is wrong or weird," she said. "I don't need those people in my life.
"If it's wrong or weird to you, that's OK, because there's a billion other people who don't think it's wrong or weird. Partnering with another girl will give other people around the world more courage to say, 'It's OK that I love somebody of the same sex.'"
Anthony Allen Ramos, head of talent for GLAAD (The Gay & Lesbian Alliance Against Defamation), said she was "once again using her platform to inspire and uplift the LGBTQ community".
Siwa has 60 million followers on social media, more than half of those on TikTok, and was named one of Time magazine's 100 most influential people in 2020.
She is also known for popularising bright, oversized hair bows known as Jojo Bows and will soon star in TV movie The J Team and the series Siwa's Dance Pop Revolution.
The 30th series of Dancing With the Stars start in September and include former Strictly head judge Len Goodman, who missed the last season because of Covid restrictions.
He will be reunited with Bruno Tonioli, who has previously travelled between the US and UK to appear on both versions of the show, but will only be on American screens this year.
Siwa's same-sex pairing follows a similar history-making partnership on Strictly last year, when boxer Nicola Adams teamed up with Katya Jones until they were forced to pull out because of Covid.
This year's Strictly will have the first all-male pairing, featuring former Great British Bake Off winner John Whaite.