Judge dismisses Evel Knievel son's lawsuit over Toy Story 4 stuntman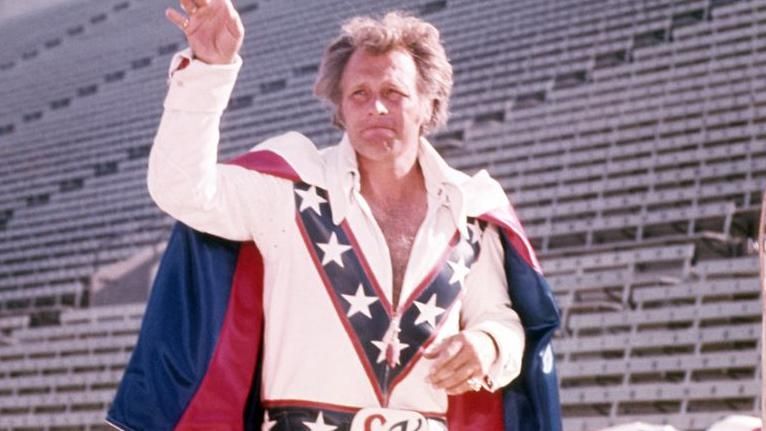 A lawsuit filed by Evel Knievel's son against Disney and Pixar over the daredevil character Duke Caboom in Toy Story 4 has been dismissed by a judge.
Kelly Knievel accused the movie giants of profiting from a character they said was based on his 1970s stuntman father without seeking permission.
But a Nevada judge has now said he didn't provide enough evidence that Disney had tried to confuse the public.
The court also dismissed claims that Disney violated publicity rights. Disney denied all the allegations.
Montana-born Evel Knievel - real name Robert Craig Knievel Jnr - was renowned for his breathtaking motorbike stunts during the 60s and 70s.
He famously jumped over the Caesars Palace fountain in Las Vegas and 13 buses at Wembley Stadium in London, and used a rocket-powered bike to attempt to cross Snake River Canyon in Idaho.
Many of these attempts ended in crashes, but he said reports that he had broken every bone in his body during his career were exaggerated. He died in 2007 at the age of 69.
Duke Caboom - voiced by Keanu Reeves in Toy Story 4 - was described by Disney-owned Pixar as a "1970s toy based on Canada's greatest daredevil and stuntman" who "has confidence and swagger" but "has never been able to do the stunts as advertised by his own toy commercial".
Kelly Knievel, whose Las Vegas-based K and K Promotions filed the trademark lawsuit, owns the intellectual property and publicity rights to Evel Knievel. He was seeking $300,000 (£236,000) damages for false endorsement and unjust enrichment.
The lawsuit claimed similarities in the look of Knievel and Duke Caboom, and said a propelled stunt toy sold to market the movie was very similar to one of Evel Knievel released in 1973 and recently re-released.
But Judge James C Mahan said Duke Caboom's role in the film passed a test applied to artistic works to balance potential trademark infringement with First Amendment rights.
The court found that Disney met the low "merely above zero" standard for proving that the alleged allusion to Knievel had artistic relevance to the film, Judge Mahan said.
He ruled that the use of Knievel's trademarks was not enough evidence to prove the likelihood of consumer confusion, adding that there were enough differences between the animated stuntman and the real person.
Duke Caboom's different facial hair, name, hair, jumpsuit and backstory all made the character separate from the actual stuntman, he said.