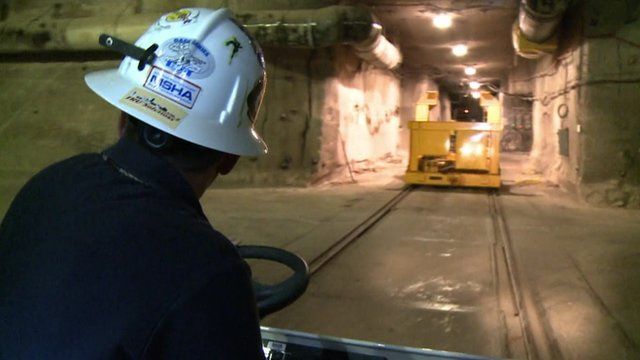 Video
Nuclear waste: Inside shut down US repository
A recent radiation leak at America's only nuclear waste repository, the Waste Isolation Pilot Plant (WIPP) in New Mexico, threatens the future of waste storage in the country.
A fire on a salt-hauling lorry in early February initially shut down the site, and a week later, underground sensors detected radiation. More tests confirmed that two radioactive particles, isotopes of americium and plutonium, were found on air filters aboveground on the site.
The radiation levels associated with the leak are lower than that in a chest x-ray, but officials have not yet re-entered the underground portion of the repository, which holds radioactive wastes from US defence sites,
The BBC's Jane O'Brien visited WIPP in October to see how the US disposes of these wastes, including the area where the leak was first detected.
Produced by the BBC's Taylor Kate Brown and Franz Strasser
Go to next video: Life in shadow of nuclear bomb factory