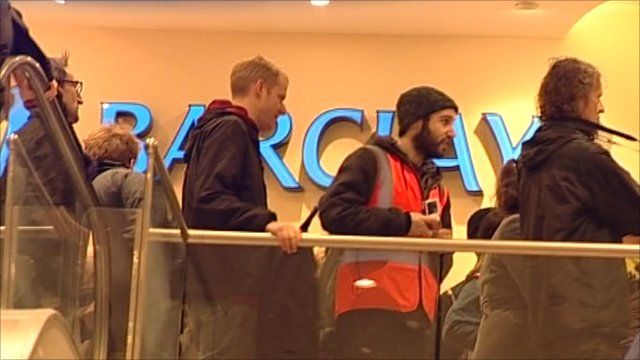 Video
Tax activists stage Barclays sit-in in central London
Tax activists have staged a sit-in at a branch of Barclays Bank in central London.
About 60 demonstrators from the group UK Uncut entered a branch on Tottenham Court Road and another 50 protested in the street at Piccadilly Circus.
Campaigners said they wanted to turn the buildings into a library.
Barclays has said it paid £113m in corporation tax in 2009, which was 2.4% of its global profit.
In response to the revelation of its corporate tax bill, Barclays has said: "The corporate tax affairs of an organisation with the global footprint of Barclays are complex and not reducible to simplistic comparisons."
A spokesman for UK Uncut, Gary Dunion said they were calling on Barclays to "pay their way".
Go to next video: Barclays tax payment 'shocking'