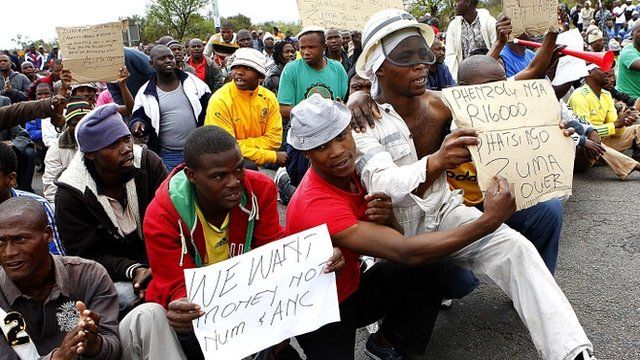 Video
Moeletsi Mbeki: South Africa 'must diversify' economy
A four-day meeting of South Africa's labour unions is taking place against a backdrop of strikes and violence which are disrupting production at some of the country's platinum and gold mines.
Speakers at the 11th Cosatu congress include South African President Jacob Zuma of the African National Congress Party, who said that the strikes have cost the industry nearly $550m in lost output this year.
Also at the conference is Moeletsi Mbeki, deputy chairman of the South African Institute of International Affairs and brother of South Africa's previous president.
For BBC World Service's World Business Report, he told the BBC's Karen Hoggan that the strikes could have a damaging effect, and the country needed to diversify its economy away from its dependence on mining.
Full transcript below:
Moeletsi Mbeki: Mining accounts for a little bit over 60% of South Africa's exports. So, when a big part of the mining industry is not working, it means South Africa's ability to pay its foreign debts and to pay for its imports are compromised. So, it has a huge impact on the economy.
Karen Hoggan: Presumably, it's really an indication of how overly dependent the South African economy is on minerals that it really needs to diversify more.
Moeletsi Mbeki: This is an old story that has been going on for 100 years. Successive South African governments have been told over and again that they have to diversify the economy of South Africa. You have a combination of an old industry or an aging industry and a population that's becoming more conscientized about its needs. In the past, huge number of mine workers were from outside South Africa, from Mozambique, from Malawi, from Tanzania, but now the large number of mine workers are South Africans. And so, they are much more conscious of their rights and they have citizenship rights, which miners did not have in the past. So, all these issues are now converging and creating the situation you're seeing.
Karen Hoggan: You say that governments have been told again and again over the past century that they need to diversify the economy, but what's the solution to this problem?
Moeletsi Mbeki: The solution is the same as what the Chinese have done with their economy, what Thailand is doing with its economy, what Indonesia is doing with its economy. You have to grow your manufacturing sector. You have to develop your agricultural sector. And South Africa has to rebuild its manufacturing industry, which is actually declining, which means we have to invest more and more and more in manufacturing, in education, all the things that the Asians are doing and succeeding to do them. South Africa has to do the same. Nobody is asking them to do miracles. We're just saying they have to do what other countries are doing.
Karen Hoggan: In terms of the diversification, you were talking about more investment in manufacturing. I mean, could a lot of that come from, say, China?
Moeletsi Mbeki: Well, first and foremost, it has to come from us, the South Africans. You see what the ANC government has been doing since it came to power, has been diverting resources from the production sector through the tax system to government consumption and government salaries. This is what has been happening. So, when you do that, then the private sector has no funds to invest.
Just to give you an illustration, one of the financial magazines did an analysis of the real tax burden on a person earning 0.5m rand. The nominal tax burden, which is the government income tax, is 27%. But they calculated that, if you add all the other things like having to pay for private security, while you have already paid taxes for the police to guard your house, it comes up to 43% of your income.
So, the South African government has been taxing the economy to fund government spending and government spending has been salary spending, building up the so called black middle class through the state sector, highly paid. Yesterday, a newspaper showed that Angela Merkel earns less money than many of our ministers and mayors in this country. So, the black elite in this country has been enriching itself at the expense of the production sector and now the chicken are coming home to roost.
If you thought this was interesting, why not sign up for the World Business Report podcast here