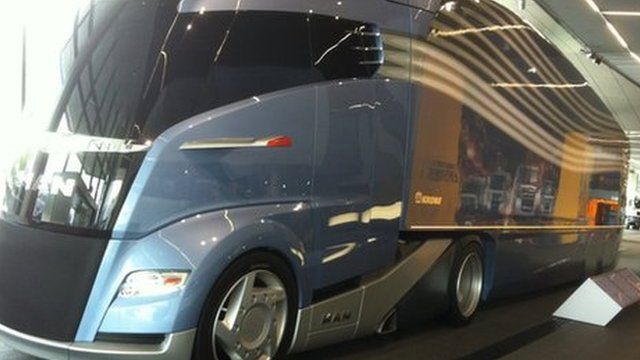 Video
Might lorries soon have curvy cabs?
Lorries typically have box-shaped cabs as the the result of EU rules devised nearly 20 years ago.
A size limit was introduced to protect roads and bridges from huge vehicles, so to maximise the payload, manufacturers have always squashed up the size of the cab.
But now the European Commission wants to allow manufacturers to make more aerodynamic and curvaceous lorry cabs.
Officials claim it will improve driver visibility, saving hundreds of lives every year, as well as cutting about £1,300 per lorry per year off the diesel bill for hauliers.
The BBC's Richard Westcott went to Munich to take a look at the Concept S, MAN's vision of how lorries may look in the future.
This video was filmed using a mobile phone.
Go to next video: F1 technology helping train companies