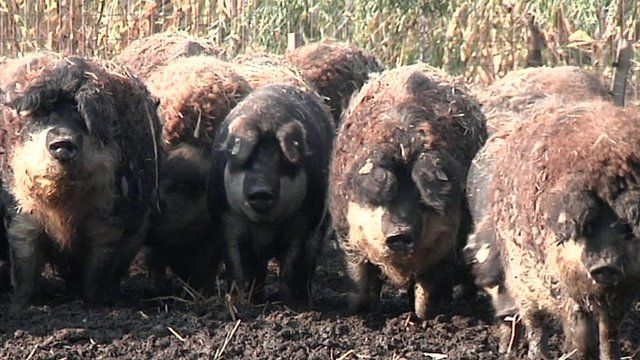 Video
Saving Mangalica: How the rare 'sheep-pig' was rescued
In eastern Hungary there is an increasingly common sight - a field of pigs with snouts and trotters but also curly, woolly fleeces.
To the uninitiated it is a sheep-pig. In reality it is the Mangalica, a comical but appealing breed that is taking the food industry by storm.
The Mangalica was first bred for the tables of the Austro-Hungarian emperors, but under communism it nearly disappeared altogether.
The breed was rescued from the brink of extinction by the efforts of animal geneticist Peter Toth.
After the fall of the Berlin Wall in 1989, he went on a mission to rescue the Mangalica, buying up the last pigs directly from the abattoirs.
Now, as President of the Mangalica Breeders Association, he has fallen in love with the breed and oversees the production of 20,000 pigs, and Mangalica - famed as the "Kobe beef of the pork world" - is served in Michelin-starred restaurants the world over.
Peter Toth told BBC News why the Mangalica was so special, and what saving the breed means to him.
Producer: Lucy Hooker. Editing: John Galliver.
Go to next video: Millions of wild pigs run amok in US