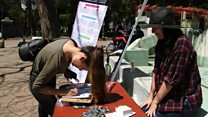 Video
How people power is tackling corruption in Mexico
In 2015, Mexico's Congress approved the creation of an anti-corruption system - to try and improve Mexico's reputation for graft. But despite these efforts to clean up its act, Transparency International still rates Mexico as the most corrupt OECD nation.
And so a group of Mexicans has come up with a proposal that politicians should share much more information about their assets and personal connections and provide proof that they pay their taxes. So can they get Congress to debate and pass the law?
Katy Watson reports from Mexico City.
Go to next video: Can technology cut corruption in India?