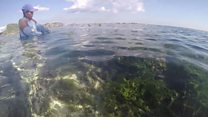 Video
Seaweed farmers in Indonesia sue in major oil spill case
More than 13,000 Indonesian seaweed farmers have launched a massive class action in Australia's federal court demanding compensation for the effects of Australia's worst oil spill.
In August 2009 there was a huge explosion at an oil well in Australian waters in the Timor Sea.
The seaweed farmers said, for more than 10 weeks enough oil to fill 10 Olympic-sized swimming pools spewed into the sea.
Indonesian seaweed farmers on Rote Island, 250km (155 miles) away from the oil well, say the disaster adversely affected their livelihood.
Rebecca Henschke went to the island to meet the seaweed farmers.
Go to next video: Indonesia blows up boats to tackle illegal fishing